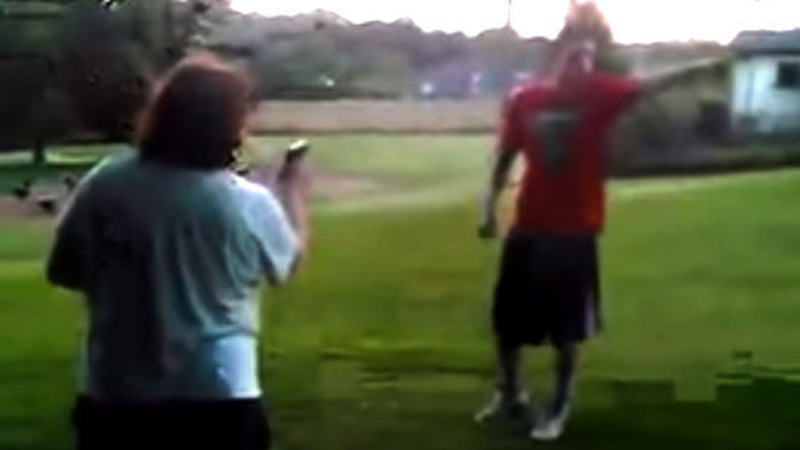 A video uploaded to Facebook by Tyrelle Ware appears to show a Missouri woman drawing and aiming a handgun on a trio of teens in a public park in suburban St. Louis, reports the St. Louis Dispatch.
"Hey, don't do that," says one of the teenagers.
The teens, 15-year-old Tyrelle, his 18-year-old brother Terrence, and friend Jack Herren, 18 were confronted in a public park by Don and Tracy Leeser, both 42. They claim they were protecting themselves and their 15-year-old son; all are residents of St. Charles County in Missouri.
Allegedly, earlier in the day, Don Lesser broke up a fight between a group of girls, friends of the Ware brothers, who are black, and Herren, who is white.
The Lessers claim that they received a text message from their 15-year-old son, Brett, who informed his parents the three boys were about to jump him at the park. The concerned parents grabbed a baseball bat and a pistol and hustled off to the park.
"Get the fuck away from my kid," one of the Lessers shouts as the video begins.
A shouting match between both parties follows as Don Lesser, armed with a bat, begins to walk away from the scene, leaving his wife, who has not yet pulled out her pistol, in front of the three teens.
Tracy Lesser accuses one of the boys of being a drug dealer. He responds, "You don't know shit."
Lesser once again tells the boys to stay away from her son. One of the boys informs her that he will beat up her son in front of her. He begins walking towards the younger Lesser and Tracy Lesser pulls a pistol out of her pocket and steadies it on the boy.
"You want to beat my ass? You want to beat my ass?" Lesser asks, leveling the gun.
"C'mon shoot me. Shoot me," the boy responds.
"Hey, don't do that," another of the trio says.
Lesser and the boy continue shouting.
One of the other boys says "Don't point it at him" and Lesser turns to aim at him.
"You are in the wrong, lady," one of the boys says as he slowly walks towards Lesser, asking her again to lower the firearm.
As the video ends, Lesser repeatedly shouts "Stay away from my son" while waving the handgun around.
The Dispatch was able to track down and talk to the Lessers after the video started getting circulated and they're not backing down from their self-defense claim.

She told the Post-Dispatch she was scared and had the gun to protect herself.

"Did I intend to use the gun? Absolutely not," she said. "But I felt that was my only safeguard against being killed that night. Worst-case scenario, yes, I would have used it. But I didn't."
Missouri is a "stand your ground" state, but the statute only applies to a self-defender who is in an automobile.
Christina Halton, the mother of the Ware brothers, told the Dispatch that the Lessers should both be charged with a crime.

"If they don't get charged, what kind of example are we setting for our children — that's it's OK to pull guns on kids?" said Halton, 40, of St. Charles. "No, this is not how we deal with kids."
The Lessers claim that someone shot at their house with a BB gun later that day and damaged a front window. The family are insistent that the Ware brothers are behind the vandalism, but the teens are denying the accusation at this point. Either way, this neighborhood dispute is probably not over.

"I will do what I have to do to protect my family," Don Leeser said. "I will let the law try to do their job first, but I'm not going to let my wife and kids get hurt."
Missouri has the 12th most gun-related deaths (via homicide, suicide, law enforcement intervention, or accident) in the United States.
[h/t Raw Story; Post-Dispatch]
David Matthews operates the Wayback Machine on Fusion.net—hop on. Got a tip? Email him: david.matthews@fusion.net