They came by the hundreds, pouring across the border and causing major problems for the unlucky authorities left to clean up their mess.
A line from a Donald Trump stump speech?
Hardly. It's what happened recently, when approximately 1,500 American partiers floating down the St. Clair river were blown off course and over the border from Michigan into Sarnia, Canada.
The border crossing took place on August 21, during the Port Huron Float Down—an annual, unsponsored celebration, during which hundreds of revelers hop on rafts and inner-tubes to leisurely drift down the waterway separating Michigan from nearby Canada. It's an event which attracts thousands of partiers, who set out from Lighthouse Beach in Port Huron for what's billed as anywhere from a three-to-six hour trip ending at Chrysler Beach in Marysville, Michigan.
This year, however, the fun was cut short when unexpectedly strong winds blew between 1,200 to 1,500 revelers off course, and into Canadian waters outside the city of Sarnia. There, they were reportedly rescued and detained by police, the Canadian Coast Guard and the Canadian Red Cross.
G/O Media may get a commission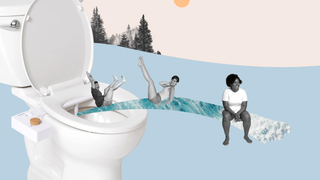 17% off
Tushy 3.0 Warm Water Spa Bidet Attachment
"No one had (identification) or anything; they were unprepared to be stranded anywhere" Sarnia Police Service Staff Sgt. Scott Clarke told the Times Herald. He also explained that Canadian authorities did not process any of the undocumented arrivals, leaving that job for the American officials.
While the off-side Americans were quickly returned home, it's hard to not to imagine how different the situation might have been had 1,500 people blown over the Mexican instead of the Canadian border. Despite the demonstrable ease with which over a thousand people were able to accidentally float between the U.S. and Canada, it seems unlikely that Donald Trump will suddenly refocus his border plan on America's northern neighbor.
On Facebook, organizers for the event thanked their temporary international hosts, and stressed the importance of paddles and oars for future Float Downs.
"We want to express our gratitude to the Canadian Authorities for their assistance and understanding with the floaters who've unintentionally been forced to the Canadian shoreline" the organizers wrote. "You've shown us true kindness and what it means to be amazing neighbors!"
To get a sense of what the Float Down looks like under ideal conditions, here's video of the event from 2011.
Speaking with the BBC, Sarnia spokesperson Katarina Ovens said city workers spent hours picking up beer cans, and other detritus left after short-lived American invasion.
Perhaps Canada should build a wall?