We know more Americans than ever are shopping online. That apparently includes drug users.
According to the Global Drug Survey, an annual report put together by a team led by Dr. Adam R. Winstock of King's College London, one in 7 Americans has bought drugs off the Internet. That includes illegal drugs, as well as legal "cognitive enhancement" drugs like ritalin.
Only the U.K., Denmark, and France had higher rates. Winstock told Fusion in an email that purchases are "mostly illicit in most countries."
One in 12 Americans visited an online "dark net" marketplace to buy illicit drugs in the past year, Winstock found. That was good enough for sixth-most among all countries surveyed.
G/O Media may get a commission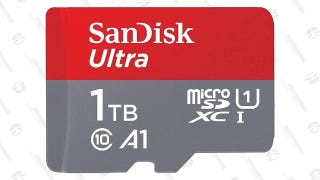 Save $75
SanDisk Ultra 1TB MicroSDXC Card
The survey results suggest a strong correlation between countries where drug possession is illegal and rates of online drug purchases (Winstock does note some of these countries also received fewer responses on average which may have skewed their results).
"The fact that the biggest shoppers were from Scandinavia (where GDS did not have media partners so numbers were small) tells you something about how zero-tolerance drug policies can drive people who like drugs to other sources," Winstock writes.
As Fusion's Danny Rivero reported, the survey is somewhat imperfect, since it surveyed a racially homogenous group of people. Winstock did not respond to requests for additional data.
The survey showed that buyers from dark net sites said they were motivated by reduced rates of exposure to violence, less adulterated drugs, more confidence in product quality, and removal from street dealing.
Worldwide, the most commonly purchased drugs were MDMA, LSD, and cannabis. The survey also found that access to the wide array of drugs available online led to increased experimentation with different classes of drugs.
Rob covers business, economics and the environment for Fusion. He previously worked at Business Insider. He grew up in Chicago.