It's likely that you primarily remember Shirley Temple as a cherubic child star, dimpled face framed by her signature curls, imparting some sort of trite lesson about following dreams or reaching for the stars. And while she was certainly that, she was also a lot more. She was, indeed, a badass. A curly-haired, singing, dancing badass.
1. She didn't become a child star stereotype.
Many child actors fold under the pressure and scrutiny that comes from being placed in the public eye at a tender age by people who might not always care for or protect you, and that risk was very apparent to Shirley, who has called out her early studio shorts as "a cynical exploitation of our childish innocence," that "occasionally were racist or sexist."
2. Her performances show that progress is sometimes not so much a straight line, but a loop.
Shirley made four movies with the superbly talented tap dance star Bill "Bojangles" Robinson, and the two became Hollywood's first interracial dancing couple in The Little Colonel. While Bill Robinson's onscreen portrayals were steeped in racist conventions of the time, The Grio notes that this coupling was nonetheless enduring and poignant, and that Mr. Robinson was a force to be reckoned with both in terms of his performing talent onscreen and his fascinating life off-screen.
G/O Media may get a commission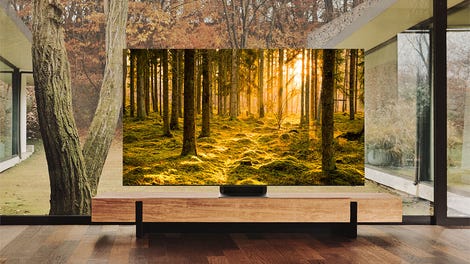 Up to 40% off
Samsung Smart TVs
3. She helped little girls feel great about themselves.
Many of Shirley's films - despite their aforementioned issues — showed a tough little girl overcoming adversity with wit and smarts. (Just watch her version of The Little Princess and try not to be impressed by her character's inner reserve.) And that's not to mention how excited curly-haired little girls were to see someone rocking their hair style on the big screen.
4. She made Oscar history.
In 1935, Shirley Temple became the first child actor to win a Juvenile Oscar. To put that into perspective: At that age, most of us were definitely being sent to the school nurse to have crayons removed from our nasal cavities.
5. She intimidated grown men.
Her "Little Miss Marker" co-star Adolphe Menjou referred to Shirley as "an Ethel Barrymore at 6" and worried that the tiny actress was "making a stooge out of me."
6. She didn't fade away.
"Cuteness" has a short self life, and being marketed on looks poses a particularly grave risk to women in an industry and within a society that often values beauty and youth over talent and experience. As such, Shirley's films were fewer and further between as she reached her teen years. She eventually retired from film at the ripe old age of 22, and embarked on a new career as a diplomat, serving in the U.S. delegation to the United Nations from 1969 to 1974, before being named an ambassador to Ghana from 1974 to 1976, and to Czechoslovakia from 1989 to 1992.
7. She fought back against creeps.
In 1937, British film critic Graham Greene wrote what may be the creepiest thing penned about a 9-year-old child's body to appear in mainstream media:
"Her admirers—middle-aged men and clergymen—respond to her dubious coquetry, to the sight of her well-shaped and desirable little body, packed with enormous vitality, only because the safety curtain of story and dialogue drops between their intelligence and their desire."
Shirley and her studio bosses at Twentieth Century Fox sued for libel and won. The settlement money was placed in a trust and later used to build a youth center.
8. She's immortalized in a Dali painting as a monster.
9. She spoke openly and frankly about breast cancer.
After being diagnosed with breast cancer in 1972, Shirley wrote about her experience and her relationship to her body in McCall's, declaring that "The doctor can make the incision; I'll make the decision." In doing so, she became one of the first celebrities to speak out about and demystify breast cancer and its treatment.
10. She got Cesar Chavez to deliver one of his most memorable speeches.
United Farmworkers Union leader Cesar Chavez's longtime press secretary recalls how Shirley had invited Chavez to a Commonwealth Club of California luncheon and persuaded him to address the crowd — even though he had qualms because she was a Republican:
Cesar and Mrs. Black had lunch together on the days before the speech and got along like old friends. They shared common interests in gardening and vegetarianism. Mrs. Black related how she had been a member of the Screen Actors Guild as a child actor and maintained her membership in the union over the years so as to support other young actors. Much later when she had to undergo breast cancer surgery, Mrs. Black was surprised to discover the costs were covered because of her SAG membership.
What has become known as Cesar's Commonwealth Club address was one of the few occasions when he was very introspective, placing himself and his movement in an historical context. It has been widely quoted, from speech anthologies to director Diego Luna's upcoming major motion picture, "Cesar Chavez," that releases in 100 markets across North America on March 28.
And there you have it: Shirley Temple Black was a child star, diplomat, cancer survivor, and all-around badass.