Today in Kazan, Russia, 10-year-old Alzain Tareq made a historical debut into the competitive athletic world by being the youngest ever swimmer to take part at the swimming World Championships.
When Tareq was born, in 2005, her fellow contender Fran Halsall won two senior medals at the British Championships. Tareq was probably paddling on a floaty rubber duck when reigning Olympian Michael Phelps took home eight gold medals at the 2008 Beijing olympics.
Earlier today in Russia, the 10-year-old competed in a field of 64 in the 50-meter butterfly heats alongside internationally renowned athletes, many who'd been swimming since before Tareq was born. Although Tareq clocked in at 41.13 seconds — finishing last in her field — she remained overwhelmingly ecstatic for the chance to compete, and share the pool with her idol, Sarah Sjostrom, reports the Huffington Post.
Bahrain-born Tareq has been training since she was 4 years old, competing in championship meets since she was 7, and consistently trains twice a day, according to popular swimming site Swim Swam. When she's not training, she's in school — she studies from 7am till 2pm. She's not alone: Swimming is one of the most competitive sports in the world and athletes as young as 11 are already training up to 27 hours per week, reports The Independent.
G/O Media may get a commission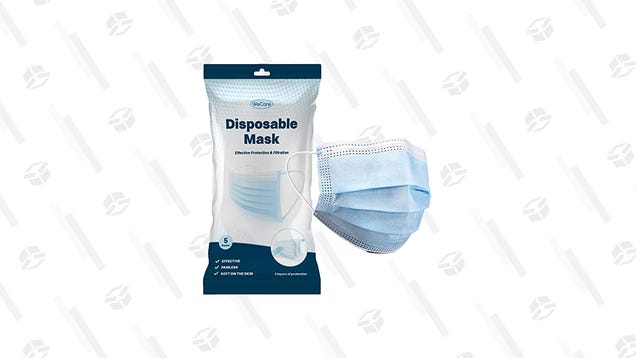 WeCare Disposable Masks With Elastic Earloops- 5 Pack
But is it all too much? "By 14, many [child athletes] swim 40 miles a week – the aerobic equivalent of running 160 miles. They are also required to work out in a gym and still find time for schoolwork," Melanie Lang of Leeds Metropolitan University tells The Independent.

"It removes the element of fun that first attracts so many youngsters to sport. It can inhibit bone growth, cause physical and mental burnout and increase the potential for injury and dropout. Indeed, swimmers cite the emphasis on frequent, intense training as a major reason for leaving the sport."
Still, Tareq shows no signs of lassitude and is eagerly awaiting her next splash into competitive waters. The young swimmer spiritedly told The Guardian today she had never swum in front of so many and was looking forward to swimming in the 50 meter freestyle taking place later. And after her race, she told the BBC: "I feel so happy."
Tareq could inevitably encounter some age-restricted obstacles in entering championships. While the World Championships seem to have no explicit boundaries on age, The Guardian says the World Junior Swimming Championship bars girls under 14 from competing. Tareq also has her heart set on the Olympics, but probably won't be able to compete until 2020 at the earliest, regardless of the high skill level she manages to attain. But she's one to keep an eye on, for sure.
Highlights of yesterday's race here:
Nikita Redkar is the editorial intern for Fusion who loves writing all things pop culture and feminism - sprinkled with the occasional punchline. She likes cute animal gifs and dislikes long walks on the beach, plagues, and other cliches.