Bad romance? No more. As reported by Harper's Bazaar last week, Lady Gaga (maiden name: Stefani Joanne Angelina Germanotta) is about to make an honest man out of her long-time bae, actor Taylor Kinney, in a summertime walk down the aisle. Whatever will she wear?
Since the singer eschews all sartorial traditions on a daily basis, we can only imagine the big day will be an over-the-top spectacle for the fashion extremist.
Pulling from the collections of this week's Paris couture presentations, we came up with 13 ideas for Gaga's phantasmagorical wedding trousseau. And while it's said that the nuptials are set to be held at the singer's Malibu farmhouse, that shouldn't stop her from going full-on fantasy.

1. Shoulder-baring sheer madness
VPL be damned! This Jean Paul Gaultier gown comes with rollers included. Done and done.
G/O Media may get a commission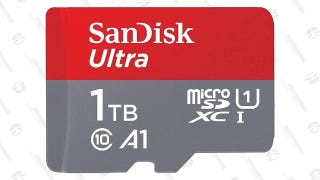 Save $75
SanDisk Ultra 1TB MicroSDXC Card

2. Chic, slouchy suit
I want to see Gaga emerging from behind a sand dune in this Schiaparelli jumpsuit. Atop a camel. Smoking from a vintage bakelite cigarette holder.
3. Strapless and a little strange
This Chanel dress is just so luxe "L.E.S. punk princess," like if Sid & Nancy had finally made it down that aisle, despite it all. Black patent booties; strapless 50's vintage silhouette with a pink blinged out belt; bored expression. Gaga would only need some hole-y tights and a PBR to finish it off.

4. See-through and dramatic
Brides showing more exposed skin should be trending, with Gaga at the helm in this Jean Paul Gaultier number.


5. Hello Dolly
Why do I get "Alice in Wonderland" vibes from this Dior A-Line frock? Why? Like Gaga and Taylor could exchange rings amongst a mushroom patch with this look.


6. Putting the country in Country Club
Picture Gaga chowing down on racks on racks on racks of barbecue at a ranch-style wedding
she'll be having in this denim-inspired Jean Paul Gautier gown. She'll be transported via pick-up truck, a Carhartt jacket gracefully thrown over her shoulders. The ringing you hear? Cattle-bells doubling as wedding bells.

7. Sparkle motion
Gaga could elope in this sequined and feathered Elie Saab jumpsuit after a bender on the Vegas strip. Tony Bennett would be the couple's witness, obviously.


8. Glinda the Good Witch
Instead of a primordial egg, Gaga can just emerge from a bubble in this twinkling, glittering cocoon of a gown.

9. Abominable snowman? No, adorable snow-woman
This Armani feathered gown is just so "Yeti-chic." It demands Gaga being air-dropped from a helicopter, only to land
atop an arctic glacier peak where the couple will exchange vows around a massive bonfire; venison will be served.


10. Solid gold
This is gilded Schiaparelli ensemble is perfect for a roller disco reception.
The train is perfect for twirling.

11. Global groove
Like a turnt Gaugin painting, Gaga could be Bali-bound for beachside nuptials in this tropical Viktor & Rolf concoction.
Of course, the singer will avoid chikunguya altogether by exchanging vows under reinforced mosquito netting.
12. Red queen
This Maison Martin Margiela gown is the dress Gaga has been waiting for her entire life. Once the mask is removed, I envison her entire face coated in vaseline and her eyebrows bleached out. Just Gaga-borg headed to the alter.


13. Boots made for walking… down the aisle
Don't forget "something blue!" Gaga in Dior over-the-thigh PVC boots? I mean, obviously.
Marjon Carlos is a style and culture writer for Fusion who boasts a strong turtleneck game and opinions on the subjects of fashion, gender, race, pop culture, and men's footwear.