Summer is almost upon us, which usually means slower days, boozy barbecues (with hangovers to match), sundresses (and armpit stains), and more than a few opportunities to wear (or ogle at) some horrendously impractical swimsuits.

It also means summer books, which, depending on who you ask, is the best part of the season or the part to avoid at all cost.
If you fall into the latter category, we've compiled some timely and titillating titles we're sure will change your mind. And if you're part of the former—boy have we got some treats for you. Here are 13 great summer reads to look forward to.
If you want a stunning portrayal of what it means to seek refuge: Exit West by Mohsin Hamid
G/O Media may get a commission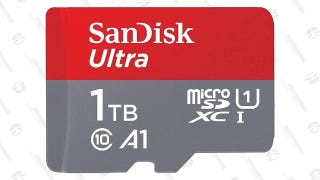 Save $75
SanDisk Ultra 1TB MicroSDXC Card
Described by the New Yorker's Jia Tolentino as "instantly canonical," it's difficult not to picture the current political climate in Hamid's fantastic novel about two migrants who fall in love in a dystopian world torn apart by war, where the only escape is through a network of secret doors.
Hamid's story isn't about politics, but about movement and pursuit: How we create homes, escape them, or rebuild them, and the sacrifices we must make along the way.
If you're searching for a richly rendered look at girlhood told through an immigrants' lens: Sour Heart, Jenny Zhang
This eagerly anticipated debut is the first to come out of Lena Dunham's Lenny publishing imprint, and it makes quite a statement. The collection of short stories all center on the lives Chinese American girls in New York City, but while their backgrounds may be similar, their stories are expansive and diverse. In Sour Heart, you'll find narratives about masturbation, the transformative power of karaoke, and China's cultural revolution.
If you like American history served with a side of greens: The Cooking Gene by Michael Twitty


In The Cooking Gene, Twitty, a food historian and creator of the Afroculinaria blog, uses southern cuisine to map African-American history. Described by Kirkus as an "exemplary, inviting" exploration—and by Twitty himself as a "culinary detective story"—The Cooking Gene dives into the complex relationship between slavery and Southern food culture.
Describing the book to the food podcast The Splendid Table, Twitty said:
It's all about crossroads. It's all about intersections. It's all about exile and migration. You know, it's almost as if we shopped every step of the way as we made our way across the world in triumph and tragedy, picking up new ingredients and new ideas.


If you want a dark, funny page-turner about identity politics: New People by Danzy Senna
The buzz on Senna's novel is pretty intense, with Vulture describing it as "political and bingeable, worthy of a one-sitting read." New People follows Maria, a biracial Stanford student who marries her college sweetheart, Khalil, who matches her both in racial ambiguity and academic background. The book derives its title from a documentary Khalil and Maria are working on together (a "Woody Allen movie, with melanin"). Things get complicated when Maria develops an obsessive crush on someone who challenges everything Maria previously thought about herself, and where she fits into the world.


If you want to go beyond the tragic headlines: We Crossed a Bridge and It Trembled: Voices From Syria by Wendy Pearlman
Pearlman spoke with hundreds of displaced Syrians over four years to craft this book, a stunning mosaic of narratives told in vignettes of varying lengths. It's hard to fathom the humanitarian disaster of the Syrian war. These testimonies—wrenching but also deeply hopeful—help us wrap our minds around it.
If you want to feel a little bit better about who's in Washington: Giant of the Senate, by Al Franken
You'd expect this memoir by Minnesota senator and former SNL cast member Al Franken to be funny, of course. And it is: as we've written here before, Franken especially enjoys dunking on Ted Cruz in the book, and his political commentary is lined with sharped one-liners.

But Franken also displays a warm and generous spirit, particularly when talking about the Minnesotans whom he has been entrusted to represent. An excerpt where he pays tribute to the Somali American community feels like an especially needed salve right now.


If you're looking for a children's book that tackles Big Issues: The Fog by Kyo Maclear
It's a simple enough story: Warble is a bird with a passion for "human watching" until, one day, fog rolls in and obscures his view. The problem? No one else seems to notice, and the more they ignore the fog, the worse it gets.
The beautifully illustrated picture book is a timely allegory about the environment that treats a heavy question—How do you get people to care about a problem they can't see?—with a light and humorous touch.


If you're want a deep, narrative dive into Russian history: October, The Story of the Russian Revolution, by China Miéville
Russia, for obvious reasons, is on everybody's tongues right now, but a lot remains misunderstood about the country's history. October takes an in-depth look at the Russian Revolution on its 100th anniversary. While its final take-away—that the fall of communism was by no means predestined—may be controversial, it's a must-read for history buffs or anyone looking to deepen their knowledge of Russian culture.


If you're still trying to figure out what your twenties are/were all about: Surpassing Certainty: What My Twenties Taught Me by Janet Mock


Before she became one of the foremost trans activists in America, Mock was just another twenty-something trying to figure her life out. Her memoir follows her across the U.S., beginning shortly after her twentieth birthday in Hawaii and following her all the way to New York. Through it all, she comes to terms with herself, her identity, and her calling as an advocate.


If you want your beach read to be brainy, inventive, and big-hearted: What We Lose by Zinzi Clemons
Clemmons' debut novel is among the most anticipated of the year, and has already earned comparisons to Chimamanda Ngozi Adichie's Americanah. What We Lose follows Thandi, a young biracial woman from Philadelphia who has recently lost her South African mother. A coming-of-age story that travels across continents, Kirkus Review warns: "prepare for Thandi's voice to follow you from room to room long after you put this book away."
If you've ever loved—or been loved by—someone messy, dark and complicated, especially if that person is your mother: You Don't Have to Say You Love Me, by Sherman Alexie
Alexie confronts his complicated and tumultuous relationship with his mother, an alcoholic who was at once abusive, intelligent, and deeply resilient. The book blends poetry and prose to capture the intricacies of their relationship and maps, with Alexie's signature blend of wit and raw, unflinching honesty, a way to make peace with a painful past.



If you've ever felt like a "conscientious outsider:" Guidebook to Relative Strangers by Camille T. Dungy
In this lyrical collection of personal essays, poet Camille T. Dungy takes her reader on a road trip across America, using its various locales to explore her roles as a mother, a black woman, a teacher, and a lifelong outsider. The book weaves together personal and American history, allowing the reader into a deeper understanding of race in the U.S.


If you're looking for confessional essays with sharp, funny cultural commentary: One Day We'll All Be Dead and None of This Will Matter by Scaachi Koul
Scaachi Koul's first book is a collection of personal essays about growing up the daughter of Indian immigrants in Canada that's already earned comparisons to Nora Ephron and David Sedaris from the Village Voice. You'll find tales about modern tribulations like the awkward conversations one endures with bikini waxers and dealing with internet trolls, but you'll also find timeless quandaries, like how to grow under—and past—your parents' expectations.