From Britney's albino python to Miley's pitchy appropriation-stravaganza, the MTV Video Music Awards has played host to plenty of memorable pop culture moments. The annual ceremony has also produced a ton of super-forgettable also-rans that missed their turn on the longterm memory highway, winding up on an off ramp within minutes of airing. In honor of the 2016 VMAs, hitting MTV this Sunday at 9 p.m. ET, here's a countdown of the 17 most iconic VMA moments you probably forgot about.
1. When Laverne Cox revealed herself to be a card-carrying member of the BeyHive during Beyoncé's 2014 Video Vanguard Award medley performance.
2. When Rihanna wore jeans and a t-shirt to the 2013 proceedings only to change into a chic, shoulder-padded LBD for the afters. That's what you get for only giving her one nomination, MTV!
G/O Media may get a commission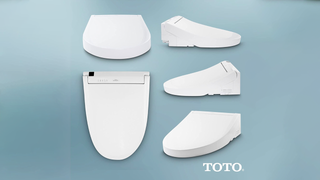 44% off
Toto Washlet Electronic Bidet Toilet Seat
3. When MTV made Britney introduce Beyoncé's "Love on Top" performance during what was supposed to be her Video Vanguard Award acceptance speech (skip to 4:40)
4. Speaking of bizarre Brit-roductions, remember when she and Xtina introduced Whitney Houston at the 2000 VMAs by going out of their way to not introduce her ("…a singer who needs no introduction at all," "…we don't even need to say her name."), only so that Houston could then present the Video of the Year Award to someone else? Awards show writers must be stopped!!!!
5. Where were we? Oh, yeah. Here's a nice one that was at least iconic TO ME: when Angel Haze and Ireland no Hailey no wait Ireland or wait Haley?? Ireland Baldwin made their first public appearance as a couple on the 2014 VMA red carpet.
6. When J.C. Chasez's mic went out during his big "Girlfriend" solo during Justin Timberlake's Video Vanguard medley in 2013, and Justin expected us to think it was all an accident. Your double-crossing, Janet-betraying, ramen-powdered fingerprints are allllllll over this one, Timbersnake!!
7. There was also the time when Pink was wasted during her 2002 VMA acceptance speech for Best Female Video. Speaking of Alicia, the singer also won the Moonman for Best Dance Video that night, which ?!??!????!???!?
8. When Diddy pulled up to the 2004 VMAs in Miami with Bruce Willis on a yacht, something Demi, Selena, and Miley have yet to do.
9. When Mariah lived some kinda Versace siren fantasy during a poolside performance of (the one true) "Shake It Off" and "We Belong Together" at the 2005 VMAs.
10. When Fort Minor and Holly Brook won the MTV Video Music Award for Ringtone of the Year in 2006.
11. When. MTV. Gave. Out. An. Award. For. Ringtone. Of. The. Year.
12. Everyone remembers Madonna and Britney's kiss at the 2003 VMAs. Most people remember Justin Timberlake's uncomfortably "This is…fine" reaction to the kiss. Some even remember Mary J. Blige's "no thank you plz" face after the stunt. But what no one remembers but SHOULD is how the five Queer Eye guys absolutely lived, died, and rose again three days later following that diva-on-diva moment.
13. Aaaaaaaaaand of course Macy Gray's oft-forgotten but nonetheless iconic 2001 VMA gown that boldly asked America to step back, take a long hard look in the mirror, and buy her new album
Bad at filling out bios seeks same.