Connye MaKenzie paid $120 a night to stay at the Miramar, a condo building at the heart of the Malecon that offered breathtaking views of the Mazatlan Bay, a town on Mexico's Pacific coast. She certainly got that, along with an opportunity to witness the takedown of Joaquin "Chapo" Guzman Loera, the world's most notorious drug trafficker and leader of the Sinaloa cartel.
On Saturday morning, a squad of Mexican marines broke into apartment 401 of the condo building and emerged with a handcuffed Guzman, who offered no resistance. The Canadian native was three floors up.
"Just before [6am] the helicopters came and were on top of the building and surrounding and circling," she told Univision Reporter Ahtziri Cardenas. "I saw a man bound on the ground out front and another guy was in the back of a vehicle."
MaKenzie wasn't the only Canadian tourist staying at the Miramar. Eileen Remiche also shared her first person account of the arrest to Univision.
"There were unmarked vehicles as well as military trucks," she stated.
"As I watched, there were two men that were taken from one of the vehicles. As I learned later, it was "El Chapo" Guzman and another young man."
G/O Media may get a commission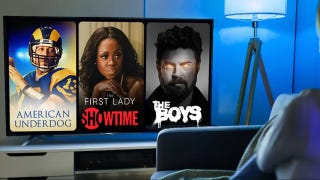 UNDER $1
99¢ Prime Video Channels
Remiche not only witnessed the arrest, but also ventured inside El Chapo's condo.
"The door had actually been kicked down by the military, but no shots were fired. It was a very quiet operation."
MaKenzie expressed relief at this latter fact.
"It could've gone so differently," she said. "There were so many machine guns down here. If he'd started shooting and they'd shot back, it could've been a whole different ending. It was pretty scary to know that."
Fidel Martinez is an editor at Fusion.net. He's also a Texas native and a lifelong El Tri fan.