Donald Trump fell back into his time-tested habit of negging women about their appearances rather than challenging them intellectually during his first presidential debate with Hillary Clinton on Monday night.
When Clinton brought up the fact that Donald Trump had referred to former Miss Universe winner Alicia Machado as "Miss Piggy"—in reference to her weight—and "Miss Housekeeping"—as a dig at her Venezuelan heritage—Trump dug his heels in. By the next morning, he was on Fox News, insisting that Macho's weight was a serious problem during her life after winning the beauty pageant.
"She was the winner, and she gained a massive amount of weight and it was a real problem," Trump said. "[N]ot only that, her attitude, and we had a real problem with her, so Hillary went back into the years and she found this."
Machado, who became a US citizen earlier this year, has been campaigning for Clinton and is the focus of a new political ad focused on the harassment that she experienced while working with Trump in 1996 after winning her title.
"He was overwhelming," Machado recalls in the ad. "I was very scared of him."
While Donald Trump's professional conduct towards Machado was reprehensible and gave Clinton the chance to hit him with a well-struck political blow, it's worth pointing out that he wasn't alone in his bald-faced criticism of Machado's weight at the time. As BuzzFeed's Nitasha Tiku noted on Monday night, there were plenty of other voices weighing in.
G/O Media may get a commission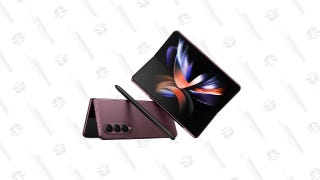 Save Up to $300
Galaxy Z Fold4
Machado won the Miss Universe competition in May of 1996, when she was 19. Three months into her stint as a Trump-approved beauty queen, she came under fire for gaining some weight and was allegedly given the ridiculous ultimatum of losing 27 pounds in two weeks.
Instead of pushing back against the idea that Machado had already won the pageant and that the Miss Universe Organization was wrong to threaten penalizing her for her body, though, publications like CNN ran pieces blaming her diet, and not blatant sexism, for her situation. "Associates said she gained weight during the summer by indulging a passion for pasta and cake," one CNN story gravely noted.
In 1997, months after she'd won the Miss Universe title, CNN ran a longer piece on Machado that similarly did very little to address the fact that her body had become the only thing the media saw fit to talk about at length.
"When Alicia Machado of Venezuela was named Miss Universe nine months ago, no one could accuse her of being the size of the universe," CNN's Jeanne Moos wrote. "But as her universe expanded, so did she, putting on nearly 60 pounds."
At no point in the story is Machado given the chance to speak about what it's been like to be at the center of a months-long media frenzy about her body that mostly relied on body shaming. Instead, Trump's quoted twice explaining that, sometimes, people like himself (and Alicia) eat when they feel stressed. The article ends with a description of Machado exercising during a photoshoot as a cluster of journalists look on from afar and Trump chides them for their apparent lack of fitness.
An article from around the same time in People is similarly resigned to what the magazine clearly sees as Machado's duty to stay thin. "Great-looking or not, 149 pounds is not acceptable to the folks who run the pageant," the article sighs. Trump is quoted magnanimously saying, "We want her to stay as Miss Universe, and she is working on her problem."
These moments, which one imagines were meant to read as lighthearted and jovial back in 1997, now come across as condescending and shallow. But while it's important to call Trump out for his hostility towards women, it's just as crucial that we look back at how we treated and talked about Alicia Machado then to realize that misogyny in the media is still very much a problem in 2016.
Whether they are Olympians, presidential candidates, or even other members of the press, women are still subjected to explicit sexism by prominent figures in the media on a daily basis. Sometimes it takes the form of a disparaging comment. Other times it looks more the sort of institutional workplace sexual harassment that leads to the CEO of a major news organization being ousted.
Regardless of how the sexism manifests itself, though, we can't forget that it's there or pretend that we've moved past it.