If you watched any TV at all in 2015, it was hard to miss this positive trend: More shows than ever are spotlighting mixed-race couples.
Of course, there's still plenty of progress to be made. As Ali Barthwell recently wrote in Vulture, "interracial pairings in popular culture still tend to necessitate one white person." But in addition to the ongoing representation of interracial relationships on series like Scandal, Modern Family, Jane the Virgin, The Mindy Project, New Girl, and The Walking Dead, an encouraging number of interracial couples were introduced on some of our favorite television shows this year.

Brooklyn Nine-Nine
After two seasons' worth of sexual tension, detectives Jake Peralta (Andy Samberg) and Amy Santiago (Melissa Fumero) have finally started dating on Fox's cop comedy.
As for the sitcom's other interracial couples, Captain Holt (Andre Braugher) and Kevin (Marc Evan Jackson) are as happily—well, stoically—married as always, but Rosa Diaz (Stephanie Beatriz) recently dumped Holt's nephew Marcus (Nick Cannon).

G/O Media may get a commission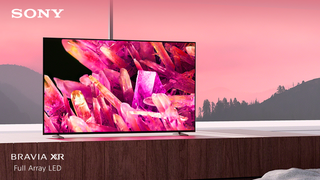 $400 off
Sony 55 Inch 4K Ultra HD TV X90K Series
Crazy Ex-Girlfriend
Rebecca Bunch (Rachel Bloom) pines for her camp ex-boyfriend Josh Chan (Vincent Rodriguez III)—and snags an invitation to his Filipino-American family's Thanksgiving dinner—on this CW musical comedy.

Empire
This season, the steamy, over-the-top Fox drama gave Lyon family matriarch Cookie (Taraji P. Henson) a hot new boyfriend in Laz Delgado (Adam Rodriguez). For her part, Mimi Whiteman (Marisa Tomei) gets busy with just about everyone in the cast, including Lucious (Terrence Howard), Anika (Grace Gealey), and even Camilla (Naomi Campbell), who—oh my god—turns out to be her wife.
Meanwhile, the state of Andre and Rhonda's (Trai Byers and Kaitlin Doubleday) union, built on a foundation of grave-digging and blowjob bibs, remains strong. Jamal Lyon (Jussie Smollett) and Michael Sanchez (Rafael de La Fuente) have split up, but we're pulling for a reconciliation.

Fresh Off the Boat
On the second season of the ABC sitcom, Eddie Huang (Hudson Yang) meets his first girlfriend, Alison (Isabella Alexander), a flute-playing hip-hop enthusiast.

How to Get Away With Murder
This year, the ABC legal drama saw law professor Annalise Keating (Viola Davis) reunite with her ex-girlfriend Eve Rothlow (Famke Janssen), a high-powered attorney in her own right.
Keating's students are also occupied with their fair share of romantic extracurriculars: Connor (Jack Falahee) is in a serious relationship with Filipino-American I.T. specialist Oliver (Conrad Ricamora), and Michaela (Aja Naomi King) has a fling with Levi (Matt Cohen).
Into the Badlands
Feudal warrior Sunny (Daniel Wu) and doctor Veil (Madeleine Mantock) enjoy a secret relationship on this new AMC series.

Jessica Jones
The Netflix show based on a Marvel comic book series pairs up its title superheroine (Krysten Ritter) with Luke Cage (Mike Colter), a bar owner with unbreakable skin.

Master of None
Co-creator Aziz Ansari stars as Dev, a commercial actor who falls in love with music publicist Rachel (portrayed by SNL alumna Noël Wells, who is herself of Latina and Tunisian descent).
Although the Netflix series is deeply engaged with racial representation in Hollywood—devoting an entire episode, "Indians on TV," to exploring South Asian stereotypes in pop culture—it faced criticism from viewers who questioned why Dev almost exclusively dated white women.

Quantico
There is a whole lot of diversity on this Homeland-meets-Shondaland ABC thriller, as well as a whole lot of boning. FBI trainee Alex Parrish (Bollywood star Priyanka Chopra) hooks up with Ryan Booth (Jake McLaughlin), and he eventually dates their Latina classmate Natalie Vasquez (Anabelle Acosta).
It's also understood that the FBI Academy's deputy director Miranda Shaw (Aunjanue Ellis) and agent Liam O'Connor (Josh Hopkins) were once an item. Quantico spotlights yet another cultural boundary-crossing romance in the love triangle between Jewish recruit Simon Asher (Tate Ellington) and twins Nimah and Raina Amin (Yasmine Al Massri), the latter of whom wears a hijab.

Sens8
This Netflix sci-fi drama centers on eight characters from all around the world who share a psychic and emotional connection. One of these "sensates" is Nomi Marks (Jamie Clayton), a hacker and trans woman. She lives with her girlfriend, Amanita (Freema Agyeman), in San Francisco.

Steven Universe
Interracial couples aren't just for live-action TV shows. This Cartoon Network series follows a boy who inherited powers from his mother, a magical gemstone (yes, you read that right). In an episode that aired in January, Steven (Zach Callison) and his best friend Connie Maheswaran (Grace Rolek), who harbor mutual crushes, accidentally "fuse" into an entity called Stevonnie.

Supergirl
There are major sparks between personal assistant slash budding superheroine Kara Danvers (Melissa Benoist) and Jimmy James Olsen (Mehcad Brooks), photographer and friend to her cousin Superman. But so far, nothing has happened between them—thanks in part to the arrival of Lucy Lane (Jenna Dewan Tatum), Olsen's ex-fiancée.

Unbreakable Kimmy Schmidt
Doomsday cult survivor Kimmy Schmidt (Ellie Kemper) finds love with Vietnamese immigrant Dong Nguyen (Ki Hong Lee), a fellow student in her GED class. Our number one wish for 2016 is that these two crazy kids find a way to make it work.
Molly Fitzpatrick is senior editor of Fusion's Pop & Culture section. Her interests include movies about movies, TV shows about TV shows, and movies about TV shows, but not so much TV shows about movies.