Today, Bangtan Boys, better known as BTS, appeared at the Mnet Asian Music Awards (MAMA) in Hong Kong, where they took home the "Artist of the Year" award and closed out the show with a show-stopping performance.
They became the second band to win the daesang, or grand prize, for the second time, and the first band to win two years in a row. Even though MAMA celebrates K-pop, this year was a little different, as BTS had just returned from an incredibly successful tour in the U.S., where they essentially introduced America to the wild and slightly terrifying world of K-pop.
Earlier this year, BTS officially broke out, becoming the first Asian music act to win a Billboard award. The last month has been a delayed victory lap of sorts, allowing the band to truly saturate the American pop cultural landscape. They performed at the American Music Awards and appeared on a number of television shows from Jimmy Kimmel Live to the Late Late Show with James Corden to The Ellen DeGeneres Show.
As a haphazard BTS fan, their tour evoked a lot of different feelings. It was exciting because of how groundbreaking it was, thrilling to let America in on a special secret for K-pop fans, troubling given the K-pop industry's history of exploitation (not that the American industry is much better), suspicious in terms of whether or not America could accept an Asian American musical artist any time soon, and utterly bizarre to witness American audiences see the culmination of the most shallow and mindless parts of their culture that they have inflicted upon the world reflected back at them, albeit through a South Korean lens.
G/O Media may get a commission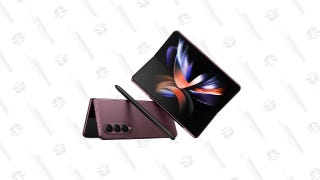 Save Up to $300
Galaxy Z Fold4
Who knows when the Bangtan Boys will Be Back in America? Probably really soon to be honest. But until then, may we all bask in this fleeting moment—where, for just a bit, all Americans were able to share a very special experience: the sheer inability to escape from the clutches of seven extremely charming and dapper young men from South Korea.