On Monday, Alabama became one of the first states to announce that it will officially begin freezing enrollment for its children's healthcare program thanks to a lack of funding from Congress.
Starting January 1, ALL Kids (the state's CHIP program) will no longer enroll children. On February 1, coverage for children already on the program will be terminated. Happy New Year!

In September, Congress blew the deadline to re-authorize CHIP, which covers some nine million children. Since then, states have been scrambling to figure out what to do. According to The New York Times, 16 states will run out of funding by the end of January. Five states have said they could terminate their programs, including Connecticut, which announced soon after Alabama that it will close its CHIP program on January 31.
G/O Media may get a commission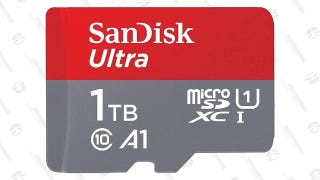 Save $75
SanDisk Ultra 1TB MicroSDXC Card
All of this is happening while the GOP prioritizes passing a tax bill that will personally enrich politicians and their donors this week. Earlier this month, Senator Orrin Hatch, one of the original co-sponsors of the bill that created CHIP, stated that the reason CHIP was flailing was because "we don't have money anymore." Hatch also said, "I have a rough time wanting to spend billions and billions and trillions of dollars to help people who won't help themselves, won't lift a finger and expect the federal government to do everything," though he made a vague promise to do something about CHIP.
States and advocates have been warning for months—long before the September deadline—about the negative consequences of not re-authorizing CHIP. The car (full of children!!) is already off the cliff. It's more than apparent that as long as they get theirs, the GOP doesn't care that millions of kids will begin to lose their healthcare.