Drake finally released his short film Please Forgive Me, which he has been teasing since last month. And it's exactly what you'd expect from a Drake short film: Drake looking sad, Drake dancing, Drake in love, Drake being corny.
The 21-minute short, directed by Anthony Mandler (who also directed the "Find Your Love" video), was shot in Johannesburg, South Africa. It stars Drake, Popcaan, Fanny Neguesha, and Sonni Chidiebere. In the film, Drake's girlfriend gets a proposal from a local gangster: to sleep with him for one night for $1 million. The girlfriend is skeptical, while Drake is more than optimistic and thinks it's a great idea. That's because Drake has a plan: a very, very bad plan that goes awry. The plot is most obviously based on the film Indecent Proposal, but it's also clear that Ron Isley's Mr. Biggs was an inspiration.
Please Forgive Me is action-packed, confusing, and often downright comical. Naturally, I have some questions.
1. Be honest, you guys already knew this would be corny, right?
2. Why does Drake insist on playing the role of a gangster (see: "Hold On, We're Going Home") in his music videos?
G/O Media may get a commission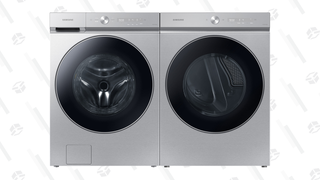 Get $500 back in credit
Last Chance: Samsung Bespoke AI Washer and Dryer Preorder
3. But…Drake not saving the girl was totally out of character, right?
4. Why is "pensive" Drake's only expression?
5. Wtf is he thinking about so deeply?
6. How many times did Drake watch Ron Isley and R. Kelly music videos growing up?
7. Is Indecent Proposal in his top five?
8. Why was he so ready to risk it all?
9. Why did Drake need to steal half a million dollars? His apartment looked lavish and his girlfriend had an expensive fur.
10. Did Drake think by making Popcaan a co-star we would forgive him for taking him off "Controlla?"
11. Who is really threatened when Drake says, "You're lucky?"
12. Is that why he was laughing? Because same.
13. Why didn't he just kill off the "boss man's" sidekick?
14. How can I get invited to that party?
15. When Drake was singing "One Dance" at the party, was he singing it as a fan of Drake or as Drake?
16. Was the only reason for the safari shot with the leopards for #Views? Because it was really off script.
17. How did the "boss man" get Drake's number?
18. Why didn't Drake just skip town?
19. Who thought of this "return the money, but a-ha there's a bomb inside" plan? It was terrible.
20. Can the "the boss man" and his twin girl killers give the world tips on accessorizing?
21. Why would you leave your girl to wait in the car? He's taking ride or die to literal levels.
22. Why didn't he leave her with keys or a gun?
23. Did he think she was safe in the meeting place of the man whose money they stole?
24. Would he do this to Rihanna?
25. What exactly are we forgiving Drake for? Making dumb decisions?
Tahirah Hairston is a style writer from Detroit who likes Susan Miller, Rihanna's friend's Instagram accounts, ramen and ugly-but cute shoes.