A shooter was arrested after a five-hour standoff inside a Planned Parenthood in Colorado Springs, Colorado, Friday afternoon left one police officer and two civilians dead. At least nine others were injured. Officials said that the shooter brought bags into the building with him, and had a "long gun." He was reportedly wearing a trench coat and firing at police from a windowless office in the building.
Police later identified the suspected shooter as 57-year-old Robert Lewis Dear. The officer killed was identified as 44-year-old Garrett Swasey, a member of the University of Colorado at Colorado Springs police department.
After police released Dear's name, multiple news outlets traced him to addresses in both North and South Carolina. Police records showed that he had been investigated at least nine times, for behavior ranging from domestic violence to animal cruelty to "Peeping Tom" activity, though he was only arrested twice.
G/O Media may get a commission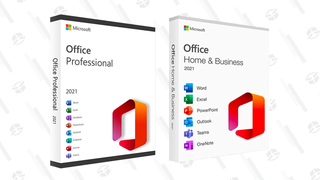 89% off
Microsoft Office Professional 2021 Lifetime License
Police told ABC News that after entering the building, they were able to shout and communicate with the suspect. The gunman then surrendered.
Colorado Springs police confirmed in a press conference Friday evening that the shooting started at the Planned Parenthood clinic. Shots were heard on local police scanners. From the New York Times:

"We're exchanging gunfire," one officer said on the radio, "We are trying to keep him pinned down."

"Put gunfire through the walls," came a reply "Whatever, we got to stop this guy."
Denise Speller, the manager of a hair salon near the reported site of the shooting, told the AP she heard "as many as 20 gunshots in the span of less than five minutes" earlier Friday.
Vicki Cowart, President and CEO of Planned Parenthood Rocky Mountains, issued the following statement after the attacks:
Tributes also poured in for Swasey, the police officer killed while responding to the attack.
On Saturday morning, President Obama said that Americans must not treat the shooting as a "normal" occurrence. "We can't let it become normal," he wrote in a statement.
Aleksander Chan is Fusion's News Director.
Danielle Wiener-Bronner is a news reporter.
David Matthews operates the Wayback Machine on Fusion.net—hop on. Got a tip? Email him: david.matthews@fusion.net