Today people honor the men and women who have served in the U.S. Armed Forces. There are parades, flags, wreath layings and media reports that chronicle the harrowing stories of soldiers who have paid the ultimate price.
But what about Tuesday, or three Thursdays from now, or really any other day of the year?
Veterans are more likely to experience certain hardships, like alcohol abuse and homelessness, than the rest of society. One reason is that the country fails, in some ways, to support the men and women, many of them very young, it sends into battle when they return to civilian life.
1. Mental Health Problems Are A Real Thing For Veterans
There were nearly 350 active-duty suicides in 2012, one for almost each day of the year. The Center for American Progress pointed out that veterans account for one out of five suicides in the U.S. Around 22 veterans committed suicide every day in 2010, according to a report from the U.S. Department of Veterans Affairs.
G/O Media may get a commission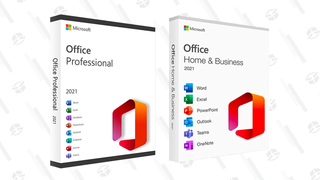 89% off
Microsoft Office Professional 2021 Lifetime License
One reason rates are so high is that combat veterans aren't all getting treatment for post-traumatic stress disorder and depression. As CAP noted, only around half of troops who screened positive for PTSD or major depression sought treatment.
2. Addiction
Veterans who suffer from PTSD or depression sometimes turn to alcohol or drugs when they aren't receiving treatment. More than one in four soldiers met the criteria for alcohol abuse several months after returning from Iraq, according to a National Institute for Drug Abuse study cited by CAP. And those who experience combat are far more likely to binge drink than those who do not see battle.
3. College
The GI Bill has allowed veterans returning from wars to get an education. But it's not a cure-all. Veterans who have served multiple tours of duty in the deserts of Afghanistan can understandably find it hard to adjust to life on a college campus. In many cases, they've seen people perish in combat, even lost close friends. Hearing a classmate moan about an 8 a.m. class can be infuriating.
As a post from the St. Louis Post-Dispatch on military.com notes, veterans can find academic life isolating and many are older, non-traditional students with jobs and families to support. Some schools offer flexible course schedules, specialized orientations or work to connect veterans on campus, but not all colleges offer such services. One veteran told the paper that he found class enrollment and financial aid daunting.
"Sometimes it's frustrating when you get out of the service and don't know how to do these things," [Navy veteran Joe] Gomez, 27, who spent six years learning about ballistic missiles as a submariner, but received just a week of Navy training to prepare him for his return to civilian life, told the paper.
This radio report by Xandra Clark* on six Iraq War veterans returning home provides an eye-opening account of what some soldiers experience.
4. Foreclosure
Foreclosure rates are high among veterans. As ThinkProgress noted, they've remained high even as the foreclosure crisis has subsided. More than 20,000 active-duty veterans and reservists with government-sponsored mortgages lost their houses in 2010, up nearly a third since 2008. Some also lost their homes unnecessarily. President Obama announced plans last year to address the issue, saying "It is unconscionable that members of our armed forces and their families have been some of those most susceptible to losing their homes through the actions of unscrupulous banks and housing lenders."
The country has made some progress in supporting veterans. A piece on Yahoo News pointed out that unemployment among veterans has dropped in the past several years, and the backlog of veterans' disability claims is shrinking.
It isn't all bad news, though. There are plenty of organizations working with veterans and their families to make the transition to civilian life a smoother one. One organization is Veterans of Foreign Wars. The group's roots are more than 100 years old and it has helped with everything from creation of the Vietnam War memorial to offering college scholarships to veterans. The American Legion is the self-proclaimed "largest wartime veterans service organization," and assists wounded veterans and their families. Those are just two and there are countless more, especially local organizations that work with individual VA hospitals and recovery centers. Some are political and some are not. Some have broad goals and others very specific missions. Do your research, but know that there are ways to support veterans year-round and not just on Veterans Day.
*The author is a former classmate of Clark's
Emily DeRuy is a Washington, D.C.-based associate editor, covering education, reproductive rights, and inequality. A San Francisco native, she enjoys Giants baseball and misses Philz terribly.