Now that football season is over, it's time for the real season, festival season. There's one band you can expect to see at almost every major one across the country this spring/summer: Disclosure. On the bill to perform at the iconic Coachella festival in Indio, California and The Governor's Ball in NYC, and smack in the middle of a massive worldwide tour, 2014 will be an even bigger year for Guy and Howard Lawrence, two English brothers known for their refreshing synthpop/garage/house records.
Although the duo produces electronic music, they don't classify their sound under EDM. Just categorize them as DISCLOSURE (when you hear their music, you'll understand why they deserve to have their own self-titled genre). Here are four reasons we're "latching" on to these brotherly Brits.
A NOSTALGIC (AND GRAMMY-NOMINATED) SOUND
Disclosure's debut album "Settle" was a contender for Best Dance/Electronica Album at the Grammy awards (Daft Punk won, eh). But like we said before, they deserve to be in a category all on their own. Not only is the album's simple yet emotional sound refreshing, so are the young voices they collaborate with. From Jessie Ware's soulful vocals on 'Confess to Me' to 'Help Me Lose My Mind' featuring the operatic Hannah Reid of London Grammar and the song made for the repeat button, 'Latch' with one of this year's most talked-about voices, Sam Smith, the musical genius on this album takes us back to the carefree days of getting groovy at the rollerskating rink.
WE CAN'T GET 'F FOR YOU' OUT OF OUR HEAD (AND OUR iPOD)
If you didn't get enough from their 2012 release 'Latch' featuring Sam Smith's heaven-kissed voice, then prepare yourself to be equally obsessed with their re-release of 'F For You' with vocals by the legendary Mary J. Blige. This is a simple equation: DISCLOSURE + MOTHER MARY = EARGASM.
G/O Media may get a commission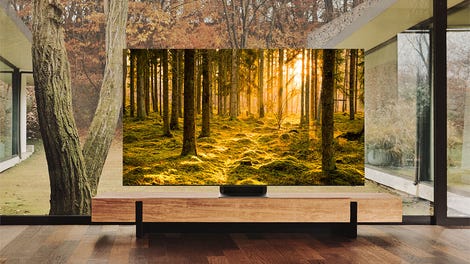 Up to 40% off
Samsung Smart TVs
WE WERE DRUNK AT KARAOKE NIGHT IN COLLEGE AT THAT AGE…
Guy and Howard are so talented and SO young. At 19 and 22 years old, this band of brothers may only be half able to drink, but their musical style will leave you overcome with nostalgia for a time you might not have even been born in. Their ability to blend 70s synthpop and modern electronic beats makes for music you can play at the gym, in your car and anywhere for that matter. It's always nice to see young talent paying R-E-S-P-E-C-T to the past while helping pioneer a new sound for the future.
THEIR LIVE SETS ARE ACTUALLY LIVE (LIKE, WITH INSTRUMENTS!)
After seeing Disclosure "encapture" the Live Stage crowd at Ultra Music Festival last year, we knew the Lawrence brothers were destined for music superstardom. Not just because of their contagious hits but the fact that their live instrumentation might be even better than the recorded version. The siblings performing live feels like you're back at home with them in a basement somewhere in England watching them create the records for the first time. It's an intimate experience that we could relive over and over. But, you tell us.