Rosie Perez celebrated something special on Saturday - her 50th birthday. At the half century mark, she does have some laurels to rest on - she will always be remembered as the person who introduced America to New York style hip-hop dancing, the genuine characters that she played on countless films and television shows, and of course, the Nuyorican accent her fans grew to love.
She's still breaking new ground. Perez will join ABC's "The View" as the show's first Latina panelist in its 17-year history. If her contributions in film, dance, and overall likeable personality are any indication of what we'll see from her on the show, she'll likely have America fall in love with her all over again.
Let's take a look at how this Brooklyn Belle stole the hearts of millions:
Soul Train
In the late 80s, Perez danced her way into the spotlight as a regular on the weekly syndicated television show "Soul Train." She introduced her Brooklyn hip-hop dancing, which was new to the other dancers, who were primarily from Southern California. Perez claimed that she tried to water down her moves but it was still too much for Soul Train host Don Cornelius. "Don Cornelius did not want to see how I really danced — I was doing hip-hop, and it was foreign to people out in California," she told Esquire Magazine in an interview. Even though she had to bring it down a notch, America was still captivated by her dance moves as she strutted down the soul train dance line.
In Living Color
G/O Media may get a commission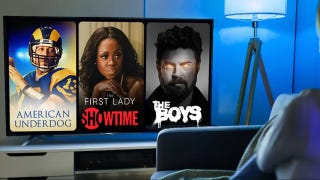 UNDER $1
99¢ Prime Video Channels
Many recall the 90s sketch comedy show "In Living Color" as the platform that launched the careers of superstars like Jim Carrey, Jamie Foxx, and the Wayans brothers. Behind the scenes, Rosie Perez was one of the key figures as the choreographer of the all-girl dance group, The Fly Girls. Perez was known for her solo dancing, but her choreography on "In Living Color" made the show a reference point for dance aficionados and teens, who would tune in week after week to see discover the hottest hip-hop moves.
Do The Right Thing
Rosie Perez made us fall in love with her character, Tina, Spike Lee's girlfriend in 1989's "Do The Right Thing". She set the tone of the film in the opening scene: it featured her in front of a Brooklyn neighborhood dancing to Public Enemy's revolutionary anthem "Fight The Power." Her intense expression, fist pumps, and powerful kicks foreshadowed the rebellious nature of the film.
White Men Can't Jump
Every man had a lot to learn about women from Perez's character, Gloria, in 1992's "White Men Can't Jump." A memorable seen is when Woody Harrelson's character, Billy, attempts to Gloria his girlfriend, a glass of water because she said she was thirsty. After Billy gets out of bed and returns with the glass, she promptly refuses it, saying "I want you to connect with me through sharing and understanding the concept of dry mouthedness."
What's your favorite Rosie Perez moment? Let us know at @fusionispop
@fusion