Colorado decriminalized weed. Washington state appears to be following, There are rumors that Washington D.C. or Florida might join as well. Now that cannabis culture is being accepted and embraced, people are looking for ways to make money out of it. Crowdfunding sites like Kickstarter and Indiegogo are rampant with weed themed projects, but many seem to be the concoctions of the awkward stoner rather than a well thought out business idea. Amongst the many (many) offerings we've found, there are a few gems of genius.
We've rounded up the top 5 crowdsourced cannabis projects we think are pretty awesome.
Number 1: My DX
Have you ever wondered just what is in the bud you are smoking? Sure, the name might be descriptive, e.g. AK47 sativa, but what about the THC levels? And is it organic? MyDX calls itself a "portable analyzer for everyone." Using a smart sensor that can be plugged into a smartphone it claims to offer on-the-spot analysis of everyday food items, testing their chemical makeup. They have a specific "MyCanna" sensor, which looks at compounds called "terpendoids" which give the cannabis its distinct smell and can be used to work out the levels of THC and potency of the bud.
G/O Media may get a commission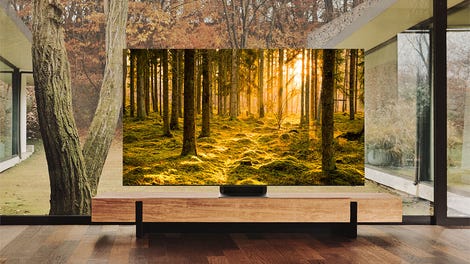 Up to 40% off
Samsung Smart TVs
They say the user then gets a better understanding of how they react to what they smoke and can create a profile to narrow down their favorite strains based on the sensor readings. It's estimated to sell for around $399 and they say it will start shipping this year.
Number 2: Mass Roots Social Network for Smokers
Once upon a time the weed smoker used to be lonely. They might smoke at home, but where could they go to share those funny stoned pictures (well, at the time) or show off their mega joints? With Mum 'n Dad on Facebook, there aren't many options.
That's why Mass Roots was created, a social network that's stoner specific. So far it hasn't had huge adoption, but concept-wise, we love it. When you're sick of social networks for everyone, sometimes it's good to get the feeling you're in a community again, and Mass Roots wants to make the stoners feel like they have some buds (pun intended).
Number 3: MedBox: Marijuana Vending Machine
We all love vending machines, and the natural evolution of visiting one for your cannabis munchies is actually getting the cannabis itself from a machine. The MedBox project is designed to allow people who have cannabis prescriptions to be able to pick up from MedBoxes situated at approved locations.
The company uses fingerprint sensors to allow people to refill prescriptions and try to prevent theft and crime. It's from Canada where regulations say that vending machines can only be used by licensed marijuana producers, but in the future.. well, watch this space in Colorado.
Number 4: Should Grandma smoke pot, an Edumercial
Now that weed is getting a better rep, people who use it for health reasons might think about getting a prescription. Or not. A lot of the literature about cannabis has been fairly negative until recent times, and many of the older generation still have a very fearful view about it. So grandma could use weed, but would she? This project is designed to demystify what weed can do, and make senior citizens support legislation to legalize medical marijuana.
We know the silver dollar is huge, well so is the silver vote, and this project will help translate marijuana's benefits to the very generation who might need it. A helpful, smart idea and one that is being carefully constructed. Robert Platshorn is the director and an advocate for legalizing medical marijuana (and a former inmate for smuggling weed) and his project is being created with sensitivity and humor.
Number 5: The Lotus Vapecase: iPhone case and Vaporizer in one
Some crowdfunding inventions cause a collective WTF, and the VapeCase is one, allowing you to vape and carry your iPhone at the same time. Really. It gets included in this list for sheer sass, though I don't know how often you would find the need to actually use it. Multi-tasking taken to the extreme, right? The Vapcase works as a protective phone case with one addition, that of a vaporizer with a section where a longer pipe can be attached to let you puff away.