Surrounded by rolling wheat fields, and a four-hour drive from the metropolises of Seattle and Olympia, Pasco, Washington, may seem an obvious candidate for the national spotlight.
With a population of 68,000, Pasco—located at the confluence of the Yakima, Snake and Columbia rivers—is a small and relatively sleepy city.
But it's also where Antonio Zombrano-Montes, a 35-year-old Mexican man, was shot and killed by police while video appeared to show him backing away with his hands raised. (He had been throwing rocks, and some accounts claim he had a rock in his hand as he was gunned down. Pasco has put the officers on administrative leave pending a review.)
The shooting has drawn harsh criticism from activists around the U.S., and even the local coroner suggested a comparison to the August death of Michael Brown in Ferguson, Missouri. It's also drawn scrutiny in the Mexican press—and in Pasco, inflamed long-simmering racial tensions.
Here are some facts that explain some of the background tensions that have come to light after the police shooting.
G/O Media may get a commission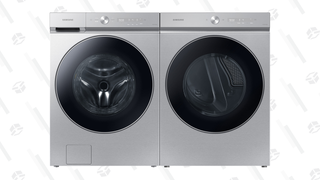 Get $500 back in credit
Last Chance: Samsung Bespoke AI Washer and Dryer Preorder
1. Hispanics are Washington's fastest-growing group
The Hispanic population of Washington swelled by 314,000 between 2000 and 2010, a spike of about of 71 percent compared with the state's overall growth of 14.1 percent. And most of this migration is to eastern Washington, where Pasco is located. This is a national trend, but the rate is one of the highest for Hispanic population growth outside of the Southwest.
2. Why? Partly because of agriculture — an industry that creates wealth inequality.
Zombrano-Montes was raised in Mexico and, like many immigrants, came to eastern Washington to pick fruit. According to a New York Times report, he fell from a ladder and broke both of his wrists last year while picking apples. It is common for migrant workers to suffer injuries on the job, and be unable to pay for health care costs—leaving them disabled and unable to support themselves.
The wine industry of eastern Washington has also been booming since the 1980s, as eastern Washington has quietly transformed itself into a "new Napa Valley." Seattle's wealthy elite often fly to Pasco or nearby Walla Walla for weekend getaways to enjoy the luxury wine industry just next door. The labor for this industry, of course, comes from workers like Zambrano-Montes. This has created a significant wealth divide, essentially eliminating a significant middle class: There are the Hispanic field workers, and the largely white vineyard owners and tourists.
3. The Hispanic community of Pasco is politically underrepresented
In an email to Fusion, Captain Ken Roske stated that 20 percent of the Pasco police are Hispanic and speak Spanish fluently. The city itself is 56 percent Hispanic. According to the New York Times, there is only one Latino in city leadership; and the five-member school board of a 70 percent Latino system, typically has one or two Latino members, but this year has none.
Across 10 counties of central and eastern Washington, Latinos account for nearly a third of the populace, yet only 5 percent hold local elected offices.
Dr. Paul Apostolidis, professor of political science at Whitman College, located about an hour's drive from Pasco, believes this lack of proportional representation comes from election laws that drive "at-large" elections rather than district elections. Pushing out representation of ethnic minorities, 50 percent of voters can choose 100 percent of those elected.
"It's basic math," says Apostolidis "that if people are voting along racial lines and you have a minority of voters who are Latino, you are always going to lose."
4. A quarter of the residents of Pasco were not born in the United States, so many can't vote
Some 25 percent of Pasco residents were not born in the United States, and 91 percent of which were born in Latin America. This also contributes to the limited representation from elected government, as many residents are not necessarily citizens and are thus unable to vote.
5. Poverty rates in Pasco are much higher than its neighboring cities
About 17.4 percent of residents live below the poverty line. That is 20 percent more than the immediate surrounding cities of Kennewick and Richland, and 25 percent more than the overall rate of the state of Washington.
Carol Schaeffer writes on global and breaking news. She researches resistance movements, policing, & international intrigue.