The Confederate flag finally came down from the South Carolina state capitol grounds Friday morning, a day after the state's House of Representatives voted to remove it. "It is a new day in South Carolina," said the state's governor Nikki Haley on Thursday. "A day we can all be proud of, a day that truly brings us all together as we continue to heal, as one people and one state."
But in South Carolina the flag is just the tip of the iceberg. Monuments, streets, and statues dedicated to slavery proponents remain all over South Carolina.
Let's start with these, yes?
1. John C. Calhoun statue in Marion Square
Steps from Mother Emanuel, the church where nine churchgoers were shot and killed by white supremacist Dylann Roof, is a monument dedicated to John C. Calhoun. Calhoun served as vice president, secretary of war, secretary of state, and senator until he died in 1850. He also happened to vigorously support the preservation of slavery.
2. Calhoun Street
The street on which Mother Emanuel sits is called Calhoun St., named after the aforementioned dude who already has a monument in his name down the block. Meh.
G/O Media may get a commission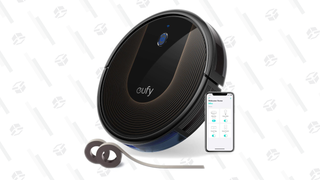 48% Off
Eufy BoostIQ RoboVac
Perhaps the street could be renamed "Pinckney Street" after the state senator and reverend at Mother Emanuel who was killed in the massacre in June.
3. Confederate statue at White Point Garden
After the tragedy at Mother Emanuel activists spray painted "Black Lives Matter" onto a confederate monument in Charleston with an inscription that reads "To the Confederate defenders of Charleston." The monument was quickly covered up to hide the graffiti, according to the Associated Press.
But maybe they should have heeded protesters' message and just bulldozed that thing right into the ground.
4. Strom Thurmond monument at state house
A monument outside the state house in Columbia, South Carolina, is dedicated to the late Senator Strom Thurmond. In 1957, Thurmond, a proud segregationist, famously staged a filibuster against a civil-rights bill that lasted more than 24 hours.
The late senator also uttered this gem when he was campaigning for the presidency in 1948: "All the laws of Washington and all the bayonets of the Army cannot force the Negro into our homes, into our schools, our churches and our places of recreation and amusement."
What most Americans didn't know, however, was that Thurmond had fathered a black child. And in 2004, the monument, which listed the number of children he had, was changed to include his black daughter, Essie Mae Washington-Williams.
A nice gesture to include her, but, why not just tear the whole thing down?
5. World War Memorial in Greenwood
In the center of Greenwood, South Carolina is a plaque honoring the soldiers who served in both World Wars. Except the memorial uses "white" and "colored" to racially divide the soldiers. The city's mayor attempted to change the plaque but could not, according to CBS News, because of a South Carolina law which disallows the altercation of monuments without approval from state legislators.
Collier Meyerson is a reporter at Fusion with a focus on race and politics. She lives in Brooklyn.