All indications are that President Barack Obama will appoint former Deputy Secretary of Defense Ashton Carter to succeed Chuck Hagel as the nation's defense secretary.
The New York Times and Washington Post reported the move was imminent on Tuesday. A White House official said no final determination had been made and there were no personnel announcements, but a person close to the Department of Defense confirmed to Fusion that Carter was the choice.
Almost immediately, people began noticing the obvious similarity — the name Ashton Carter is pretty close to Ashton Kutcher. The jokes and satire began rolling in. One Italian journalist even paid an indirect homage to Kutcher's former MTV show, "Punk'd," by convincing more than a few White House and Washington reporters into thinking a parody Ashton Carter Twitter account was the real thing.
G/O Media may get a commission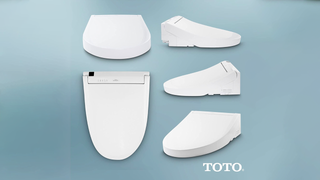 44% off
Toto Washlet Electronic Bidet Toilet Seat
And like Kutcher, Carter also has a wide variety of fans on both sides of the aisle. Even Sen. John McCain (R-Arizona), perhaps the president's most vehement critic on matters of foreign policy and national security, told ABC that Carter is "qualified." It's likely Carter won't face a bruising confirmation battle.
Those are about the only things Kutcher and Carter have in common. Here are five things you need to know about Obama's likely new defense secretary:
He's known as a policy wonk.
Carter has a reputation as someone who can excel in a multitude of different areas of defense policy, given a vast and expansive knowledge of almost every topic on the docket.
Geopolitical expert Ian Bremmer, the president of the risk consulting firm Eurasia Group, told Fusion that Carter is an "exceptionally bright and a strategic thinker" — something the White House could use to bolster a foreign policy team that is "particularly light" on the strategic thinking aspect.
He also steer guide the Department of Defense through the budgets cuts of sequestration in early 2013.
"He's the sort of guy who you can ask about a situation somewhere and chances are he can give you a solid rundown on the issues involved," added Garrett Khoury, the director of research at The Eastern Project, a foreign policy research and analysis firm.
He had a variety of odd jobs in his early life.
According to The Washington Post, Carter wrote in his autobiography that his first job, at age 11, was at a Philadelphia-area car wash. (As it happens, one of Kutcher's first movie gigs was also in relation to cars.) He was fired from the job for "wise-mouthing the owner," as he put it.
Carter also worked as a gas-pump attendant, hospital orderly, fishing boat crewman and counselor for a suicide-prevention hotline before he attended Yale University.
He has done almost everything there is to do in the Pentagon.
In some ways, this is like a movie star playing a bunch of different roles throughout his career. Carter began his time at the Department of Defense during Bill Clinton's first term in office, serving as assistant secretary of defense for international security policy.
His responsibilities then encompassed a wide array of policy, including military planning during the 1994 crisis over North Korea's nuclear-weapons program and military policy toward the collapse of the Soviet Union. He also was instrumental in securing the removal of all nuclear weapons from three countries, including Ukraine, which critics have said removed potential barriers for Russia in provoking a crisis in the country earlier this year.
During the Obama administration, Carter first served as the under secretary of defense for Acquisition, Technology, and Logistics before his promotion to deputy secretary of defense. He left the administration after being passed over for Hagel following the 2012 election.
"He has an insane amount of experience in the Pentagon," said one former colleague who was not authorized to speak for the record. "When you look at his career, he has done just about everything you can imagine that you'd want somebody to do before they take the job as defense secretary."
He did probably the most selfless thing a government employee could have done back in 2013.
Back in February 2013, Carter testified before the Senate Appropriations Committee about what he framed AS potentially devastating budget cuts to the Defense Department under sequestration, the cuts that came about as a result of the 2011 budget deal.
Carter said many of his employees faced potential pay cuts and furloughs. Most agencies within the Defense Department, he said, would have to furlough each employee for an average of one day a week for 22 weeks if the cuts went into effect. In a show of solidarity, he said he would give back the equivalent amount of his own salary to the Treasury Department. (By law, Carter, a Senate-confirmed government employee, could not be furloughed.)
And he called on everyone in Congress, and even the president, to make the same move.
"During this period, furloughs will result in a 20 percent cut in pay for civilians who support our national defense – which will affect their morale. Senate-confirmed political appointees like me cannot be furloughed under the law. But if our employees are furloughed, I intend to give back to the Treasury the same portion of my salary, and I encourage all of us – Executive Branch and Legislative Branch – to do the same," he said.
He fits the Obama mold of defense secretary, but he will push back if necessary.
Bremmer told Fusion he wouldn't have necessarily expected Obama to select Carter, given that he is not viewed as an administration insider. The White House and Pentagon have bickered over the major challenges facing the U.S. on a national-security front — crises in Ukraine, in Syria and Iraq with the extremist group ISIS, and with Ebola — with the Pentagon criticizing the administration for micromanaging each.
But Carter does have connections, obviously — he worked in the Pentagon throughout the entire first Obama term and has worked even more extensively in the Clinton administration with Susan Rice, Obama's national security adviser.
As the deputy secretary of defense, he served, in effect, as the military's chief operating officer, overseeing an annual budget of more than $600 billion and 2.4 million military and civilian personnel in the department.
People who know him say Carter has a good, practical head on his shoulders. He understands the political considerations that might have to go into some decisions from the White House, but he also won't be afraid to push back on their preferred solutions and recommend shifts in strategy if that's what his military advisers suggest.
The former colleague said he was aware of the political ramifications when then-Secretary of Defense Robert Gates suggested 16,000 U.S. troops be left behind in Iraq. Carter suggested 10,000, the number that was eventually agreed upon by both the Pentagon and White House.
"He's a straight shooter. He's going to listen to the advice he gets from his military commanders and will make his own recommendations based on both internal assessments and military command," the former colleague said.
Carter is viewed as a very "modern" potential secretary of defense, with a focus beyond the familiar U.S. wars and stretching into threats of cyber attacks. He developed the new cyber warfare strategy that was adopted by the president and secretary of defense.
"He strikes me as a very modern Secretary of Defense, with his experience on issues like cybersecurity, reshaping the military for the future, and research and development," Khoury said.
"If he is able to tap into his experience, he could be the Secretary of Defense the United States needs to shepherd the military and defense establishments as it restructures to meet new challenges."
Brett LoGiurato is the senior national political correspondent at Fusion, where he covers all things 2016. He'll give you everything you need to know about politics, with a healthy side of puns.