We knew Adele was capable of greatness. Her multi-octave voice has already won her several Grammy awards, and helped her sell more than 30 million copies of her 2011 album 21. But the kind of success Adele is seeing with the release of the debut single from her new album is completely unprecedented in the digital age.
"Hello" has permeated the American consciousness in just a little over a week. It's on the radio. People are buying to it to store on their phones and play on the subway. It's streaming through Spotify, and YouTube, and Pandora.
Adele is taking over. Here are five things to know:

1 . She has the number one song in this country—and a bunch of others.
"Hello" had so many plays in its first week that it stole the number one spot on the charts away from Justin Bieber by a mile. The song dominated in a way that no single of the digital era ever has. It broke the Vevo record for plays in a 24-hour period, and was the most streamed song of the week. It sold, in a single week, 1.112 million digital copies, making it only the 24th single to premiere at number one in Billboard chart history.
Adele is the first woman to snag that top spot since June.
And "Hello" isn't just number one in the United States–it's number one in the UK, as well as Australia, Belgium, Canada, Czech Republic, France, Germany, Greece, Hungary, Ireland, Israel, Italy, Lebanon, Netherlands, New Zealand, Norway, Portugal, Scotland, Slovakia and Switzerland. (!!!)

G/O Media may get a commission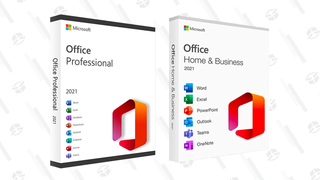 89% off
Microsoft Office Professional 2021 Lifetime License
2. The video for "Hello" has so many views it's absurd.
Currently, the counter on this video reads a little over 207 million unique views. It had so many views that it broke the 24 hour viewing record previously held by Taylor Swift's star-studded "Bad Blood" video. Additionally, "Hello" broke Miley Cyrus's "Wrecking Ball" record to become the fastest video to reach 100 million views—doing it in only 5 days.
3. Adele is breaking records left and right.
"Hello" sold 1.112 million digital single copies in its first week. What that means is that the equivalent of 1.112 million users not only heard Adele's "Hello" on the radio and enjoyed it, but were willing to fork over a dollar and 29 cents to own the song in a world where no one needs to pay money to listen to music. They could, and did, just listen to it on YouTube, or stream it on their computer.
Also amazing: The number of singles Adele managed to sell is far and away the highest number of singles sold in the digital era. In second place is Flo Rida's 2009 hit "Right Round," which sold a mere 636,000 digital copies in its first week.
But those sales don't mean people didn't stream her record as well. Adele now holds the record for the most digital streams of a song by a female performer, with 61.6 million plays. The only song with more than that in a single week? The 2012 track "Harlem Shake," which topped off at 103 million streams, mostly from knock-off videos.

4. People are desperate to know this song.
Some of my favorite music stats are the ones that Shazam releases. Shazam is an app that allows user to—with the click of a button–have their phone listen to a snippet of a song and tell them what that song is. Shazam is an incredible predictor of popularity, because it means that someone was interested enough in a song that was randomly playing in an establishment to pull out their phone, remember where the Shazam app was, and look like an idiot holding their phone into the air so Shazam could grab the sample. Ultimately, Shazaming denotes that a listener has some kind of connection with a song.
And everyone is Shazaming "Hello." In the 24 hours after its release, 200,000 people held up their phones to listen to Adele's "Hello." "No single has ever been Shazamed so much in its first day," Daniel Danker, the company's Chief Product Officer told BBC Newsbeat.
And that's a huge indicator of success. (As if the number one spot wasn't enough.)
5. Her album 25  is expected to slay.
Analysts are already predicting (based on a combination of pre-sales and public interest) that Adele's third studio album, 25, will sell at least a million copies in its first week. In an age where basically no one's been buying music, that's a pretty incredible feat, and one that hasn't happened in a year—since Taylor Swift released 1989 and sold 1.287 million copies in her first week. In fact, if Adele sells a million albums in the first 7 days, her album will be only the 20th one to do so since Nielsen started keeping track of sales in 1990.
She might even have a chance to break the record for a female recording artist, still held by Britney Spears' 2000 Oops!… I Did it Again, which sold 1.319 million copies in the first week.
Get used to hearing about Adele: She's not going anywhere. Her album drops November 20 and she'll probably be putting out new singles through mid-2016. Because she's releasing 25 so late in the year, she won't be eligible for the 2016 Grammy awards. So buckle up! This Adele hype has at least another 18 months left in it.
Kelsey McKinney is a culture staff writer for Fusion.