SAN DIEGO, CA—Nearly a thousand people marched here on Tuesday, in just one of many demonstrations that occurred around the world to commemorate International Women's Day.
While some came to celebrate women's accomplishments, others embraced the march as an opportunity to raise awareness of work that still needs to be done around gender inequality in the workplace.
"We haven't really seen changes since International Women's Day began in 1910, so on this day we wanted to recognize the most vulnerable women, which we noticed are immigrant women," said Beatriz Garcia, lead organizer at Service Employees International Union (SEIU), who organized the march. "The reality is that our janitors and security officers are young women. This is the thing that a lot of people don't realize."
The San Diego march coincided with contract negotiations that Garcia said could bring higher wages, expanded health care benefits, and protections against sexual harassment to some 20,000 janitors and security officers represented by SEIU across California.
While the marchers included people from all ages and races, it was mostly young Latina workers who cheered the crowd on with their chants of, "We're feminists, we're here. We're fabulous, don't f*** with us," and "Hold the burger, hold the fries. Make our wages super-sized," along with other catchy, sassy, epigrams.
G/O Media may get a commission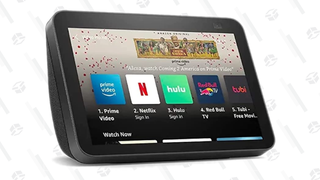 Fusion asked young women at the rally what changes they wanted to see in the workplace, and this is what they told us:

"Higher wages"
Income inequality has been a recurring theme of politicians this election year, and the numbers suggest that it is squarely a women's issue. Last year, the gender pay gap was wider than the previous year: Compared to men, women earned 81 cents on the dollar in 2015, down from 82.5 cents in 2014, according to a study by the Institute for Women's Policy Research. Broken down by race, the numbers get even hairier. The median weekly earnings for white women are $743, for black women $615, and Latino women $566.
"I'm a mother of a daughter who will grow up to one day be a woman and I feel that we all deserve the respect that men get," said Cy'Mone Fillmore, 28, a fast food worker who attended the march. "[Women] deserve to be able to provide for our families just as much as a man is able to go to work with respect, able to do his job and come home with decent pay. I'm here supporting the cause to raise the minimum wage."

"More women of color in positions of power"
From movie sets to tech companies, women are still lagging significantly compared to men when it comes to representation in leadership roles. Just 10% of the workforce at Twitter were made up of women in 2014 and just 9% of directors of top grossing films in 2015 were women— and you can guess that number is even less for women of color.
"I want to see more opportunities for [young] women in the job force, and equal pay," said Jeyla Spencer, 21, a childcare provider and student. "We need more people in power understanding what the needs [of people of color] are and actually caring about them; we need more women and people of color in positions of power."

"Respect on the job"
Also on Tuesday, young female McDonald's workers over 2,000 miles away in Chicago asked for respect and an "end to verbal abuse and harassment" on the job. The issues they raised are widespread. One-third of women aged 18 to 34 have been sexually harassed at work, according to a 2015 study by Cosmopolitan. Of the women surveyed, food and service hospitality workers had the highest levels of reported sexual harassment.
"[Immigrant women] suffer the most horrific things at the hands of their employers, and so many times they are silenced because they are sometimes [undocumented] women who are taken advantage of," said community organizer Christina Hernandez, 26. "I definitely would love to see these women and janitors actually given dignity and respect on the job. To be treated as equals and not less than… we want their employers to be held accountable for the way that their employees experience their working environment."

"Improved health benefits"
It's still not easy for women juggling health issues and workload. In fact, about 88% of women have no paid leave at all when they give birth in the U.S., which is one of only two countries in the world with no guaranteed maternity leave, according to a documentary released this week by Broadly. And it's not just about pregnancy. Just this week, Fusion published "The case for women skipping work for 'period days,'" arguing for period policies in the workplace.
"I've seen pregnant women working hard, tiring themselves because they have to," said 19-year-old personal assistant Tiara Griffin. "The first day of your period is always the hardest and I feel like your boss needs to be understanding of that… I also want [young] women to not be disrespected, not told that they need to put their hair down because the boss doesn't like it, not told to wear shorts instead of pants."

"More union organizing"
The labor movement is over 3.5 million members smaller than it was 40 years ago. This year a Supreme Court case could further weaken public sector unions by allowing public workers who are not union members to opt out of paying union fees that are used for collective bargaining on their behalf.
"I think women do better when they belong to a union," said Alicia Nichols, 27, who is a union organizer herself. "Gender discrimination laws came from the labor movement. Women's oppression plays out economically and in the workplace and unions provide a system of worker democracy that gives more power to workers… It allows women to tackle those issue head on."
This content was made possible by a grant from The California Endowment and produced independently by Fusion's Rise Up: Be Heard Journalism Fellowship.
Gabriela Espinal, from San Diego, recently graduated from UC Santa Cruz where she earned degrees in art history and visual culture, and feminist studies. For the past three years Gabriela was a part of the student broadcasting organization Rainbow TV, a group that would film and edit live productions put on by the Cultural Arts and Diversity Resource Center at UCSC. More recently, Gabriela has been working with Media Arts Center San Diego in their Teen Producers Project, a program that gives local youth access to video cameras and editing software so they can engage in digital storytelling as a means of self-expression, communication and social change. As a fellow, Gabriela is interested in reporting on housing insecurity, immigration reform, human rights concerns along the U.S.-Mexico border, and the school to prison pipeline. Gabriela is very excited and grateful to be working with Fusion as a Rise Up: Be Heard fellow.
Michelle Zenarosa is the project coordinator and co-editor of the Rise Up: Be Heard journalism fellowship at Fusion.