A video shot by a Chilean student who stole and burned $500 million in student debt documentation has gone viral among the country's students. The video was posted last week in the wake of a "toma" — a student takeover — of the now defunct Universidad del Mar.
"You don't have to pay another peso [of student debt]," student Francisco Tapia said in the five-minute video, in which he claims responsibility for the burning. "We have to lose our fear, our fear of being thought of as criminals because we're poor … This is my act of love for you."
Tapia's actions may mean that many indebted students will no longer be asked to repay their outstanding debt. Universidad del Mar closed its doors in 2012, but is still collecting student debt payments. Because the records were destroyed, the school would have to sue students individually to get the loan money back.
Tapia confessed that he destroyed the papers without consulting with other students. So far police have only collected the ashes from the burned documents, and have not arrested Tapia. If charged, lawyers for the students are expected to argue in court that the loan contracts were fraudulent in the first place.
G/O Media may get a commission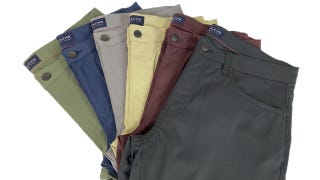 JACHS NY Fall Stretch Tech Pants
Student protests in Chile demanding free education and against burgeoning student debts have been ongoing since 2011. By law, it is illegal to profit from education in Chile, yet students demand that Minister of Education Nicolas Eyzaguirre do more to enforce the law.
Local papers report that more than half of Chile's students attend publicly subsidized universities, which are privately run, and for profit.
According to El Mostrador, seven institutions of higher learning are currently under investigation, with four more probes set to open in the near future.
Newly re-elected President Michelle Bachelet ran on a platform of education reform, and only two months into her term, she is being pressured by student protesters to follow through on that promise.
Tapia's lawyers note that he could get away with only light punishment. Chilean law calls for a one to five year jail term for stealing property in an unoccupied space, a criteria which could technically describe the university at the time. His attorneys argue that his confession to the crime could open the door to probationary sentencing, resulting in minimal jail time.
Daniel Rivero is a producer/reporter for Fusion who focuses on police and justice issues. He also skateboards, does a bunch of arts related things on his off time, and likes Cuban coffee.