MERIDA, Venezuela — Bells ring at the Santa Cruz del Llano church as students gather for a graduation mass.
In a tent in front of the church, five undergraduates lie quietly on mattresses and hold signs demanding the liberation of Venezuelan political prisoners.
"We have decided to join the hunger strike that is sweeping across this country," says law student Jose Monsalve. "If we don't push things forward, if we don't demand change in this country, who is going to do it?"
Monsalve and his colleagues from the University of Los Andes have vowed not to eat until the government releases jailed opposition leaders Leopoldo Lopez, Daniel Ceballos, and Caracas Mayor Antonio Ledezma, who are among the 70 Venezuelans jailed for protesting the government in the past year. Lopez, charged with inciting violence during last year's deadly protests that claimed more than 40 lives, announced a hunger strike on May 24 from behind bars.
The students joining the hunger strike in solidarity are also demanding that the government lift an arrest warrant against Villcar Fernandez, a student leader from Merida, who is currently in hiding.
G/O Media may get a commission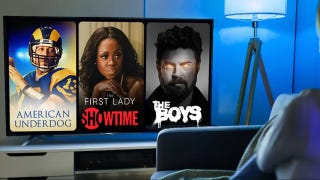 UNDER $1
99¢ Prime Video Channels
"We are tired of the persecution against our student leaders," said Lilia Gainza, a law professor who joined the hunger strike in Merida. "We are protesting in a peaceful way so that the government does not have any excuse to come after us."
Similar hunger strikes have been announced across Venezuela in recent weeks, following Lopez's lead.
The incarcerated opposition leader is demanding the liberation of jailed activists. He's also calling for the government to set a date for parliamentary elections that are supposed to take place this year, but remain unscheduled as the government struggles with product shortages, falling oil revenues, and the world's highest inflation rate.
According to a story published on Tuesday by local newspaper El Nacional, 58 Venezuelans are now on hunger strike — and the number seems to be growing.
"We just got word that someone in Anzoategui [an state in eastern Venezuela] has joined," Monsalve told Fusion on Tuesday evening, after glancing at his phone. There are also two Venezuelans who have joined the hunger strike in front of the UN building in New York.
Seguimos frente a la sede de la ONU en NY en huelga por las libertadad de nuestros presos #DictaduraEnVzla pic.twitter.com/r95riySXGK

— Josmir Gutierrez (@JosmirGutierrez) June 10, 2015
It's hard to predict if these hunger strikes will force the government's hand. But there is some precedent for success. In the past, student hunger strikes have resulted in the liberation of lesser-known activists and citizens who were mistakenly confused for protest leaders. Hunger strikes with more ambitious demands, such as changes to how the country runs its elections, have come up empty.
This is the biggest, most widespread hunger strike so far, involving people in 10 cities.
"This time, I think they will have to listen to us," said criminology student Militzabeth Perez, one of the hunger strikers in Merida. "The Pope should speak out about what is happening too, that would be of great help to all of those who are here."
As Tuesday's graduation mass finished in Merida, law students in suits and gowns emerged from the church.
Some greeted the students on hunger strike and congratulated them for their sacrifice. Marisol Marquez and her husband Carlos Nieto, who will receive their law degrees this weekend, posed for a picture with professor Gainza. They hugged and held signs that read "Libertad."
"This is a bittersweet moment," Marquez said. "We are happy because we've achieved a dream, but sad to be in a country where the rule of law is not respected. But we are supporting the strikers and will continue to work hard and study to take this beautiful country forward."
Manuel Rueda is a correspondent for Fusion, covering Mexico and South America. He travels from donkey festivals, to salsa clubs to steamy places with cartel activity.