Tonight, the San Antonio Spurs face off against the Miami Heat in the NBA Finals for the second year in a row. As a public service—and as a Texas native—I've compiled a helpful list of reasons why you should it's in everybody's best interest to root for the Spurs.
You love America
Do you like freedom? Are you a patriot? If so, then you have to root for the Spurs. Wanting the Miami Heat to win is straight up un-American.
I'm not being hyperbolic about this, either. When given the choice between the two teams, the majority of Americans who participated in an (obviously very scientific) ESPNation poll, picked the Spurs.
G/O Media may get a commission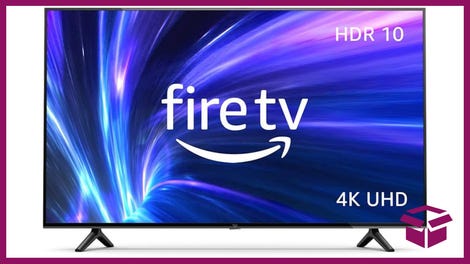 42% Off
Amazon Fire TV 50" 4K Smart TV
Built vs. Bought
Both teams are anchored by their respective "Big Three"—Tim Duncan, Tony Parker and Manu Ginobili for the Spurs, and LeBron James, Dwyane Wade and Chris Bosh for Miami. The former were all players drafted by and have spent their entire careers with the Spurs. The Heat? Not so much. Chris Bosh and LeBron James couldn't cut it with their original teams so they quit and signed with Miami (weak). Which brings us to…
LeBron James Broke the heart of an already struggling city
There's no denying that LeBron James is one of the most dominant players in league history (the obvious successor to Michael Jordan, inarguably the Greatest Of All Time). But his legacy is unequivocally tarnished by stabbing Cleveland— a once great American city that has lost its luster—in the back.
I am, of course, talking about "The Decision," the nationally televised public breakup with the Cleveland Cavaliers, his home team (James, an Akron native, was drafted by the Cavs). It was a crass and heartless way to give the middle finger to an adoring fan base.
Look, there's no denying James's greatness, but it's also worth pointing out that Michael Jordan—and Larry Bird and Magic Johnson, for that matter—never abandoned their home teams. But hey, at least James introduced "taking my talents to South Beach" into the modern lexicon.
Gregg Popovich
Pop, as he's affectionately called, is the heart of the Spurs.He's a no-nonsense head coach that's forged out of iron. He's unflappable…
… and doesn't mince words.
But inside that tough exterior, did you know that there's a wine and food connoisseur that loves Russian literature and French New Wave cinema? That's the kind of general you want leading you into battle, not some petulant guy who looks like he's wearing his dad's suit and doesn't know what he's doing.
The Spurs have loyal fans
I spent the better part of the last decade in Austin, Texas, roughly an hour away from San Antonio. I can tell you from first hand experience that the Spurs have one of the most loyal fanbases in professional sports (likely because it's the only thing the city has going for it). Miami, on the other hand, not so much.
During Game 6 of last year's finals, Heat "fans" started clearing out the American Airlines Arena before the game was even over. Do you really want these fairweather supporters to enjoy another win? I didn't think so.
I've lived in Miami for the better part of 9 months and I can tell you here that your typical Heat fan referred to the game as "sportsball."
The Spurs have God on their side
Spurs nuns. Enough said.
God—-and His people are spurs fans. It's a fact. #210 #LosSpurs pic.twitter.com/d5mmLxPDi3— Anna Amy (@annaamy927) October 31, 2013
Texas > Florida
The San Antonio Spurs call Texas home. The Lone Star State has given us great barbecue, Roy Orbison, Buddy Holiday, and Friday Night Lights (#TexasForever). Florida, meanwhile, has given us George Zimmerman and cannibals on bath salts.
Let's be honest, if it were up to the rest of America, this is what would happen to the so-called Sunshine State.
The moral of the story: If you love America, loyalty and teamwork, the choice is obvious. But, if you're an idiot, here's why you should root for the Heat.
Fidel Martinez is an editor at Fusion.net. He's also a Texas native and a lifelong El Tri fan.