Justin Bieber was on Ellen yesterday, explaining that during his previous appearance on the show earlier this year, he was"extra nervous." The Biebs wanted to reiterate that yeah, he acted kind of douchey over the past few years, but now he is excited to be starting this "awesome, new chapter" in his life. Which got us thinking about all the potentially amazing new things Bieber might want to try now that he's done throwing eggs at other rich people's houses.
1. Clean up the Pacific Coast trash island
Now that the "Baby" singer is committed to cleaning up his act, he could really help the world by cleaning up the Great Pacific Garbage Patch. It's estimated to be roughly the size of Texas, so that cleanup would likely take up a large chunk of his twenties.
2. Major in Psychology
G/O Media may get a commission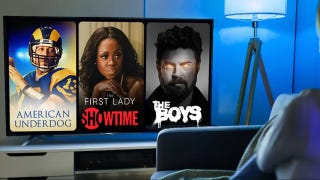 UNDER $1
99¢ Prime Video Channels
Bieber has to wonder what it is about him that has rallied an army of teens to defend his every whim. Seriously. Try posting "Who is Justin Bieber?" on Twitter and just watch as his fandom emerges like ants to a pop tart…
Working towards his degree in psych would not only distract him from potential hood rat activities or ill-advised tattoos, but it may also prove beneficial to us all. He could go on to get his PhD and teach a new generation all about symptoms of and treatments for Bieber fever.
3. Espionage
Hear me out: I know Justin Bieber is basically the most recognizable human being on the planet, but I think that is potentially a great characteristic for a spy. No one would ever suspect him of double-crossing governments and collecting top-line intel on assassins. Does Canada have spies though???
4. Become a Kate McKinnon impersonator
So meta.
5. Run for mayor of Toronto
If Rob Ford can have his office forcefully taken from him and use a majority of his time as mayor checking in and out of rehab, we think Bieber could truly make a difference to Torontonians. First order of business: With every order of poutine you can get a copy of one of his singles. Pretty good deal, eh?
6. Write a Selfie memoir a la Kim Kardashian
Some of Justin's best original content isn't his music at all — it's his contributions to Instagram. The Biebs has perfected the art of the aloof squint selfie, and can obviously cash in on giving us the lowdown on how to appear unbothered by the iPhone's chins-encouraging front cam.
7. GO TO BRAZIL!!!1!!!1!11!!!
Being "big in Asia" used to be the mark of super stardom, but if Twitter is any indication, Brazil has the world's most eager Belieber fandom. Considering the millions of tweets requesting his return to their nation, I think he could actually take over the world in a literal sense if he decided to relocate.
Images via Getty/Instagram/NBC
Akilah Hughes is a comedian, YouTuber, and staff writer and producer for Fusion's culture section. You can almost always find her waxing poetic about memes and using too many emojis. 🍕