It's been a long, tough road for Britney Spears fans. In recent years, Spears has become a hollowed-out shell of her former 1990s glory. Since her peak during the aptly named Blackout years, Britney's creative output has staggered. Every album sounds more Auto-Tuned, her onstage dance routines look like something your aunt picked up at Zumba, and above all else, she looks dead behind those pale Louisiana-blue eyes.
Whether it's due to Justin Timberlake breaking her heart, celebrity getting the best of her, or the amounts of lithium she allegedly takes, we all have to admit Britney isn't the star she once was. But just as Britney's star dimmed, a little net gem popped up. Around the end of 2013, one of her "people" taught the fading star how to use Instagram, and ever since, her most devoted fans have gotten their daily dose of authentic Britney mainlined through their phones.
An account once used to hawk her perfume has now become a little peek at the inner world of this suburban mom by day, Vegas star by night. For those of us who religiously watched her series "Chaotic" on UPN, Britney's quirks will come as no surprise. But her Instagram posts serve as a reminder that she's still there, buried behind two kids, techno beats, and a bunch of jorts.
"Sunday Funday"
G/O Media may get a commission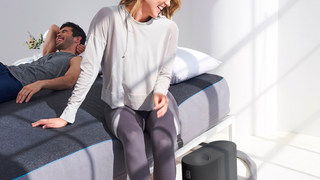 Eight Sleep Pod Cover
Nothing brightens up my day more than watching Britney anxiously mug for the camera. Ever since she made her comeback from the disastrous 2007 VMA performance, the princess of pop has had the same grin plastered on her face for every media appearance. It's good to know she does it with her kids too.
"Sometimes I do impressions"
Britney is not just the best lip-syncer in the business; she's also an amazing impressionist in the tradition of Dana Carvey and Darrell Hammond. It's baffling that no one ever tried to rebrand her as a comedy actress.
"How I spend my Saturdays….lol."
Every time Britney does a weird face for the camera, I'm reminded that the same innocent little Mouseketeer survived the head shaving, umbrella beating, and marriage to Kevin Federline.
"Sometimes you just wanna go old school and WRITE instead of type:) Who else agrees?! #IAmBritneyJean #BehindTheScenes #ITypedThis"
This modern day Dorothy Parker's got it right. We writers need to feel the personal connection between hand, pen, and paper.
"Untitled" and "We've Got Liftoff"
Here she is giving us her best imitation of Richard Nixon mixed with a Japanese fan girl. It looks totally normal and not forced at all.
"My girls Fe and Joya sure know how to take care of all my VIPs"
Some of the worst parts of the Femme Fatale tour were the stiffly posed meet-and-greet pictures she would take with fans backstage. Here she looks like someone told her there's no such thing as too much smiling.
@fusion