Yesterday, Paula Deen tweeted and deleted a photo of her with her son Bobby. It was a costume photo; Paula was dressed as Lucy, and Bobby was dressed as Ricky, from the classic television show I Love Lucy.
This would have been a fine, even cute photo, had Bobby Deen not also dressed in brownface.
That is not what #TransformationTuesday is for!
Since this isn't the first time that Paula Deen has run into some trouble in this regard, we thought it would be instructive to look back on some other times that celebrities and politicians have apologized for wearing blackface. Maybe Paula can pick up a tip or two for her inevitable apology.
G/O Media may get a commission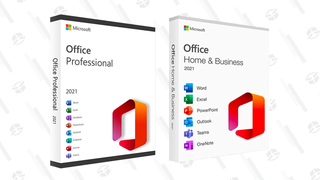 89% off
Microsoft Office Professional 2021 Lifetime License
1. Julianne Hough, apologizing for using blackface in her 'Crazy Eyes' Halloween costume.
"I am a huge fan of the show Orange Is the New black, actress Uzo Aduba, and the character she has created. It certainly was never my intention to be disrespectful or demeaning to anyone in any way. I realize my costume hurt and offended people and I truly apologize."
2. Ted Danson, apologizing for wearing blackface while roasting his then-girlfriend Whoopi Goldberg at the Friar's Club.
Goldberg stood by Danson at this moment, so the Friar's Club did the apologizing.
"While raucous and X-rated humor are usually the tradition of these annual events, they are never intended to ridicule or disparage any segment of our society," Jack L. Green, the dean of the New York Friars Club, said in a statement released yesterday.

"In a time when we are all concerned about healing and not dividing the races, we at the New York Friars Club apologize to Mayor Dinkins, Montel Williams and all others who were discomforted and offended by the racial remarks."
3. YouTube star Shane Dawson, apologizing after creating many characters that were him wearing blackface.
Via his apology video: "I made a mistake and I shouldn't have done that. It was stupid and offensive. It wasn't malicious but it was stupid. I shouldn't have done it."
Dawson managed to stick his foot in his mouth again earlier this year, which Fusion covered here.
4. Julie Myers, head of Immigrations and Customs Enforcement, apologizing for hosting a party where a guest showed up in blackface.
Quoth CNN, which had the exclusive:
"Julie Myers, head of Immigration and Customs Enforcement and host of the fundraising party, was on a three-judge panel that originally praised the prisoner costume for "originality."Myers later apologized for "a few of the costumes," calling them "inappropriate and offensive." She said she and other senior managers "deeply regret that this happened."
5. Arkansas City, KS Mayor Mel Kuhn, apologizing after wearing blackface and drag in a costume contest to raise money for foster children.
"It has been brought to my attention how offensive this was and I absolutely agree that it was shortsighted of me not to see that in the first place."
6. Tyra Banks, apologizing after contestants on America's Next Top Model were forced to take pictures with darkened-skin makeup.
"[If anyone was offended], I apologize because that was not my intent… It's my number one passion in my life to stretch the definition of beauty. I listen to many heartbreaking stories of women who thought they would be happier if they looked different. I want every girl to appreciate the skin she's in."
7. New York assemblyman Dov Hikind, apologizing (poorly) after being photographed in blackface at a party celebrating Purim.
"I understand people's sensitivities. Nobody meant anything. It was not meant to offend you or hurt you in any fashion. I'm sorry people were offended. It was not meant that way. In hindsight, I should have picked something else. It never crossed my mind for a split second that I was doing something wrong."
(According to the New York Daily News: "Mr. Hikind said a professional makeup artist came to his home to transform him into a "basketball player," with a costume that consisted of an afro wig, sunglasses, an orange jersey and brown face paint.")
8. Daryl Somers, Australian TV presenter, apologizing after contestants on a talent show wore blackface and performed as the 'Jackson Jive,' offending guest judge Harry Connick Jr. and countless others.
"It didn't occur to me until later—I think we may have offended you with that and I deeply apologize on behalf of all of us. Because I know, your countrymen, it's an insult to have a blackface routine."
9. Joni Mitchell –– yes, Joni Mitchell –– not really apologizing so much as giving her reasoning for wearing blackface multiple times
"When I see black men sitting, I have a tendency to go—like I nod like I'm a brother. I really feel an affinity because I have experienced being a black guy on several occasions [like the time I wore blackface on an album cover]."
The reasons Joni Mitchell figured it was OK: A far more racist dentist commented on her teeth once, a man complimented her gait once, and she wanted to mess with a photographer.
David Matthews operates the Wayback Machine on Fusion.net—hop on. Got a tip? Email him: david.matthews@fusion.net