In May, when Dr. James "Jimmy" Epting retired after 23 years as the president of North Greenville University, a tiny Baptist school in Tigerville, South Carolina, he cited unnamed health concerns as the basis for his resignation.
But last week, the real, shocking reason for Epting's departure may have come to light: a video, shot by Epting's son and uploaded to YouTube, that allegedly shows the Christian leader getting caught in the act of an affair.
Christianity Today reports that the video reveals Epting having an affair with a female staff member at his school. The video, which was shot last October, was only uploaded to YouTube last week by a user named "The Truth." The title of the video is "Exposing Jimmy Epting," and it was reportedly shot by Epting's son Paul.
I'm going to repeat that for emphasis — Epting's son allegedly took a video of his father having an affair, and uploaded it for the entire world to see. The whole video is worth watching. No, seriously, watch the entire video.
The video opens on Epting's son's face. "Here we go," he says. His eyes glance at the camera, and then toward the ground. He makes a slight grimace. And then he looks away, toward the expanse, and murmurs, "It might be a bad day." And then he's off.
G/O Media may get a commission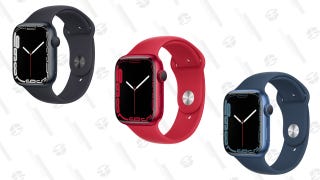 Up To $45 Off
Apple Watch Series 7
Christianity Today says that Epting was a beloved figure on North Greenville University's campus. Students liked him so much that they built a statue of him. One of the members of the school's trustee board called his tenure "a season of miracles."
And then his son doxxed him. "It's over, Dad," his son says. "It's done."
Here's Epting's facial expression at the moment he realized was in a bit of trouble.
Oh my god.
Michael Rosen is a reporter for Fusion based out of Oakland.