There are currently 2,722 reported cases of the Zika virus in the United States, and 624 of them are pregnant women. (Those numbers jump to 16,832 and 1,595 when you include Puerto Rico, American Samoa, and the U.S. Virgin Islands.) At least 16 infants have been born with Zika-related birth defects and five women have lost their pregnancies as a result of the virus, according to the Centers for Disease Control. Last month, an infant with microcephaly became the first Zika-related death in the state of Texas.
And so it's against this backdrop that Congress failed on Tuesday to advance a bill to provide $1.1 billion to fight the spread of the virus. Not because they couldn't agree that Zika is a serious public health threat or  because they couldn't agree on the dollar amount, but because of Planned Parenthood and the Confederate flag.
The fuck? Great question.
Before sending the bill to the Senate back in June, House Republicans inserted language that would reverse a ban on flying the Confederate flag at military cemeteries and deny additional funding to Planned Parenthood clinics in Puerto Rico. Senate Democrats rejected the bill then, and rejected it again when presented with the same bill this week.
But the potential consequences of further stalling funding over political axe-grinding—at the same time that the CDC has said it is "out of money" and mosquito-born and sexually-transmitted cases of Zika continue to spread across the country—are so destructive that even some reliably anti-Planned Parenthood Republicans support excising the language.
"For this to get done, that language just may have to go away," Missouri Sen. Roy Blunt told The Charlotte Observer.
G/O Media may get a commission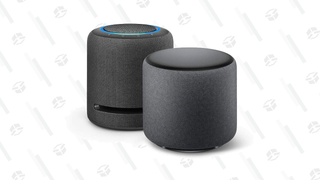 25% off - Prime Exclusive
Echo Studio + Echo Sub Bundle
"My interest is getting the funding, so if that's the fastest way to get the funding, I support it," Florida Sen. Marco Rubio told The Hill.
Remember now that Rubio and Blunt are among a contingent of Republicans who believe that Planned Parenthood is literally a criminal organization and that abortion should be banned in all cases, including rape, incest, and life endangerment. Even these guys have made a political calculation that it is better to pass a clean bill than to draw out a losing battle over reproductive healthcare and a racist flag.
Unfortunately, many of their Republican colleagues have not reached a similar moment of lucidity. "We have a public health crisis descending on our country," Senate Majority Leader Mitch McConnell, said Tuesday after Democrats rejected the bill. "Pregnant women all across America are looking at this with dismay, utter dismay, as we sit here in a partisan gridlock manufactured by the other side."
Let's consider this.
There is a fast-growing catalogue of stories and profiles of pregnant women in Zika-affected areas, and there's a lot you can learn from them. Like how women are wearing long sleeves in the oppressive Florida heat or taking leaves of absence from their jobs so that they can remain indoors for the duration of their pregnancies. There are women who have terminated wanted pregnancies because of Zika or have had to grapple with the realities of parenting a child that may be born with Zika-related health conditions.
But in all of this, I have yet to encounter a single woman who asked themselves, in the fear and confusion that is being pregnant in the midst of a growing public health crisis: But what about the Confederate flag?