Last week, Christopher R. Laugle, who is white, pointed a toy gun at police officers in Cincinnati. He was arrested and sent to jail.
Just hours later and a few miles away, Paul Gaston, who is black, reached for a toy gun in the waistband of his pants, Cincinnati police said. He was shot and killed.
The incidents have now drawn national attention after they were highlighted by activist and New York Daily News reporter Shaun King. On Monday, online "hacktivists" released the personal information of 52 Cincinnati officers in response to the incident.
"When you murder a human being when you have other choices of containing your suspect available we will make your officers information public record," the group, which called itself Anonymous Anon Verdict, said in a video according to the Cincinnati Enquirer.
Cincinnati police deny that race played any role in the outcome of the two incidents. But only in the Laugle incident was the toy gun pointed directly at officers. They had been called to a woman's home after a man was reported sleeping on her porch. The gun was lying on a table, and at one point the woman picked it up. Laugle grabbed it from her hand and started walking toward the officers. After refusing to obey orders to put it down, he was stunned.
G/O Media may get a commission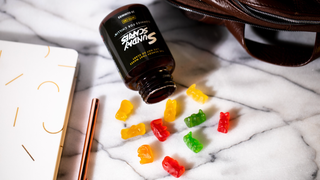 10mg CBD Gummies (22-Count)
"The officers would have been in their right to use deadly force at that point and thankfully they didn't,'' the president of Cincinnati's police union, said according to the Enquirer.
In Gaston's case, Cincinnati officers were told that Gaston was waving a gun near children; it was unclear if 911 operators were ever told it was a fake or a toy, the Enquirer said. Police found Gaston after his truck collided with a utility pole. When he was confronted, police said, they saw him reach toward his waist after refusing commands to lay down, at which point three officers fired a total of nine shots.
From 2001 to 2007, Cincinnati police were placed under Justice Department monitoring over the Department's use of force.
At an anti-crime meeting Monday, city residents raised concerns about the Gaston encounter, WCPO reported. Cincinnati's chief of police defended the officers' actions as "consistent with their training."
Rob covers business, economics and the environment for Fusion. He previously worked at Business Insider. He grew up in Chicago.