The Commission on Presidential Debates on Wednesday announced 16 finalists to hold general-election debates for president and vice president.
There are three that the committee should strongly consider as host sites: The city of McAllen, Texas; Dominican University of California; and one of two community colleges.
Here's a look at why each makes sense in 2016.
1. The city of McAllen
McAllen sits along the U.S.-Mexico border and features a Border Patrol station. It was at the center of attention last year, as floods of undocumented immigrants came across the border and provoked a debate about immigration reform and border security.
Holding a debate in McAllen would shine the spotlight on what will undoubtedly be a central issue in the 2016 campaign: immigration reform and border security. A general-election debate would come as the Democratic nominee (most likely former Secretary of State Hillary Clinton) is seeking to inspire the same kind of Latino turnout as President Barack Obama in 2008 and 2012.
It would also be instructive to host a Republican presidential primary debate in McAllen. The issue has become one of heated debate within the party among candidates like former Florida Gov. Jeb Bush, who favors a broad overhaul of the nation's immigration laws, and Sen. Ted Cruz, a senator from Texas who does not favor a path to citizenship for millions of undocumented immigrants currently living in the country.
G/O Media may get a commission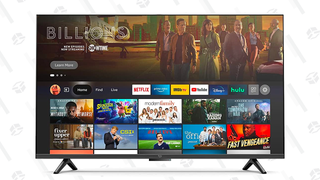 22% off
Amazon Fire TV - 50" Omni Series 4K - Early Access Deal
Hosting a debate in McAllen might inspire candidates to tour one of the detention facilities in south Texas that sparked controversy because of their lack of standards up to basic human necessities.
2. SUNY RCC in New York or Houston Community College
Hosting a debate at the State University of New York Rockland Community College (SUNY RCC) or at Houston Community College would give center stage for a night to the issues important to community colleges.
The topic that would garner the most attention here is Obama's idea to make community college free for two years.
Republicans oppose the plan on a federal level, though red-state Tennessee has implemented a state-level plan under Republican Gov. Bill Haslam. The idea of making community college free has also gained momentum in swing-state North Carolina, whose Republican-heavy legislature is moving forward a bill that would make it free for high-school students that earned at least a 3.5 GPA.
Having Houston Community College host would mean candidates could address a deeply diverse student population. During the 2012-13 school year, according to the college, the school's student body was 42 percent Latino, 31.5 percent white, and 21.7 percent African-American.
3. Dominican University of California
One thing sticks out on the surface about Dominican University of California: Its student body features a lot of women! The student population is 77 percent women, in fact, according to the school.
Hosting a debate here would help put women's issues under the spotlight — something that would gain added value if, in fact, a woman is the Democratic nominee and vying to become the nation's first female president.
From abortion and reproductive rights to pay equity and more, there's a disagreement between the parties about how to tackle women's issues. Here's a chance to give that debate the limelight and national television audience it deserves.
The 2012 presidential debates were held at the University of Denver in Colorado, Hofstra University in New York, and Lynn University in Boca Raton, Florida. The vice presidential debate was held at Centre College in Danville, Kentucky.
Brett LoGiurato is the senior national political correspondent at Fusion, where he covers all things 2016. He'll give you everything you need to know about politics, with a healthy side of puns.