A drug company in Canada increased the cost of medication used to treat epileptic children by 2,000% with very little warning, CBC News reports, a move that echoes American pharmaceutical investor Martin Shrkeli's decision earlier this year to raise the price of a cancer drug by 5,000%.
The Irish pharmaceutical company, Mallinckrodt, sells a drug called Synacthen Depot in Canada, a treatment for a rare form of epilepsy called West syndrome. The cost of the drug went up from $33.05 per vial to $680 per vial, meaning that a full six-week course would cost $14,280.
Health officials in Alberta, British Columbia, Saskatchewan, and Ontario say their systems have been hit by the increased cost of the drug in recent months, with Alberta taking the drug off its list of drugs that are automatically covered under the province's public health network. In Canada, a government review board can control price increases for patented drugs (which means the formula for the drug is still owned by just one company), but not generic drugs (which means versions of the drug can be made by any company). Synacthen Depot is a generic drug. While state health authorities are supposed to have some control over the price of generics, there are loopholes in the system, CBC News writes.
"My concern is that this is a harbinger of things that will come in the near future. This is predatory behaviour on the part of drug companies—period," Dr. Carter Snead, a Canadian pediatric neurologist, told Epilepsy Ontario. "This won't be the last time this happens. Canada, the United States and Europe need to put some kind of system in place so manufacturers of drugs…have to follow strict regulations following price increases, and the increases cannot exceed the consumer price index."
In a statement, a spokesperson for the Mallinckrodt justified the price hike by saying they were making a loss on the drug, and that the supplier they bought it from had even considered ceasing production as a result of the costs.

G/O Media may get a commission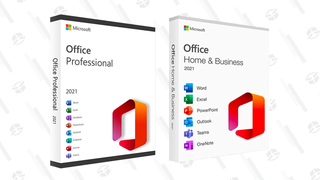 89% off
Microsoft Office Professional 2021 Lifetime License
"When Mallinckrodt acquired Questcor in 2014, Synacthen Depot was one of the products in the portfolio. It was losing money then and still is. Moreover, in the spring of 2014, Mallinckrodt was told by the existing supplier of the product that they would cease production in early 2016," a Mallinckrodt spokesperson told CBC News.
In the U.S., Shkreli backed down after a public backlash and said his company, Turing Pharmaceuticals, would not be raising the price of Daraprim from $13.50 to $750, though he continued to defend his actions. Since the drug is generic, a competitor to Turing Pharmaceuticals has said they will soon offer the same drug at $1 per pill.