A Wells Fargo brochure for teens seems to indicate that being a ballerina or acting is just getting ready for an actual career like engineering or botany. Charming!
The ads are part of marketing for Teen Day on Sept. 17. Because your participation in the arts as a teen is just preparation to make you a well-rounded professional, right? Or just youthful folly on the way to your real career?
Unfortunately for Wells Fargo, most people in the arts already already argued with their parents ("A career isn't about paying the rent, Mom!") or the rest of the mostly left-brain thinking world ("I love living in a tiny apartment in NYC and that's why I'm not going to the high-school reunion, not because I can't afford it!" and "God I'm a dancer, and a dancer dances!"). And thus, they have plenty of defenses ready for tone-deaf ad campaigns.
G/O Media may get a commission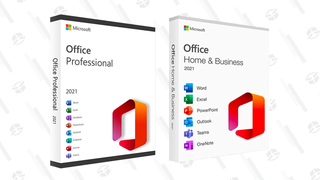 89% off
Microsoft Office Professional 2021 Lifetime License
Wells Fargo, the third-largest bank by assets, agreed in August to pay $3.6 million to the federal Consumer Financial Protection Bureau over its student loan program for allegedly misleading borrowers, illegally charging fees and purposefully processing payments in way to get more late fees. In agreeing to make the payment, Wells Fargo admitted no wrongdoing.
Earlier this summer, Wells Fargo teamed up with Amazon to offer discounted private student loans to Amazon Prime members. Wells Fargo called it a "tremendous opportunity," but they probably didn't mean to trade a low-interest federal loan and a cap on borrowing in the long-term for free two-day shipping in the short-term. That will get them ready for tomorrow! The program was criticized as being "cynical attempt to dupe current students," and it was mysteriously abandoned this week.
Perhaps Wells Fargo should just stay away from giving any advice, be it career or financial, to teens.