Can today be a holiday? Because Missy Elliott released her killer new music video and redefined the term WTF. Today, WTF means "Where They From." She's back to remind us that she's owned athleisure style and music videos, since 1997. The new clip is classic Missy: Futuristic, with lots of Adias, hot dance moves and cameos from cool people we want to be friends with (this time: The LES twins, rapper Sharaya, and puppet Pharrell).
Here are the seven flawless looks that Missy rocks in the video for "Where They From."
Disco Breakdancer
Missy Elliott is the queen of tracksuits; she even had her own sportswear line, Respect M.E., with Adidas back in 2004. This time she's stepped it up a notch with disco ball-esque embellishments, rhinestone lips, and ski google sunglasses. Shine bright, Missy, shine bright.
G/O Media may get a commission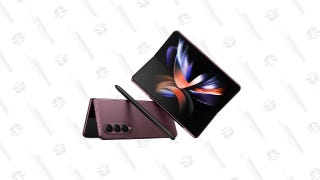 Save Up to $300
Galaxy Z Fold4
The Biggie Duets Look (sans Diddy)
When I saw this I couldn't help but think of Diddy saying this. Again, Missy is killing the athleisure game—this time in memory of Notorious B.I.G. Thank Missy for your next squad look—and for bringing 'The Biggie Duets' to life.
Roy Lichtenstein Comic Girl
Pop artist Roy Lichtenstein never imagined a super cool black woman as his iconic comic book girl. Thankfully, we have Missy, in dotty makeup, a gold chain, and a Rita Ora Adidas jacket.
Hair On Fleek
Pay close attention to Missy's dope angular bob! Like her outfits, Missy's hair game is always on point. Plus, covering one eye is the perfect solution for lazy people who only want to do half of their make-up (aka me). She's also got a color-blocked lip and some subtle branding ('WTF' is written on her face) and, naturally, a dope tracksuit.
On-Beat Athleisure Puppet
First of all, how is this Pharrell marionette so accurate? Maybe he's been a puppet all along and that's how he maintains his smooth skin and ageless face. Secondly, when have puppets ever been on beat? They are definitely moving on the 2, 4. Even as a puppet, Missy's sportswear game is strong, complete with more subtle branding. Let us know where we can we buy those 'WTF' cycle hats. Please.
The Plastic Bag Upgrade
Remember when Missy wore a trash bag in her video for "The Rain (Supa Dupa Fly)"? In "Where They From," she brings the concept back, this time wearing a plastic jumpsuit while she and her posse are chilling in what appear to be large trash bins. Being dirty never looked so good.
Futuristic Hoverboard Queen
Is it really 2015 if you don't own a hoverboard, ride one in your music video, or have one on the list of things that annoy you the most? As obnoxious as they are, Missy makes them look cool and intergalactic—with rhinestone basketball shorts and blue lipstick.
Plus, imagine if you could enter and exit every room like this.
We call this day of November 12th, 2015, Missy Elliott Day. Let's all get hoverboards, plastic bags, and Adidas to celebrate?
Tahirah Hairston is a style writer from Detroit who likes Susan Miller, Rihanna's friend's Instagram accounts, ramen and ugly-but cute shoes.