On Wednesday, nine of 13 editorial staffers at LA Weekly were fired after the publication's parent company had finalized its sale to a new owner. Such mass cullings are depressingly familiar in media. But this bloodbath stands out because no one knows who exactly the new owner is.
The mystery of the anonymous buyer—or buyers?—extends from the alternative weekly's newsroom outward to other local and national journalists. And in a blog post hours after the news broke, LA Weekly itself posed the question to its readers: Who exactly is behind the firings, and why?
The new owners of LA Weekly don't want you to know who they are. They are hiding from you. They've got big black bags with question marks covering their big bald heads. These new owners just laid off nine hardworking journalists. Why? For sport? To start anew? To fulfill a blood vendetta that is centuries old? Maybe they have a good reason. Maybe they don't. We don't know. You don't know. No one knows but them.
One would think a mystery buyer could be tracked down more easily in a local market like Los Angeles, given the narrower spectrum of potential axes to grind. But the LA Weekly's new overlord(s) have steadily maintained their anonymity. The only public information is that the company is called Semanal Media, that its chief executive is a man named David Welch—whom the Los Angeles Times described as "a Los Angeles attorney known for representing members of the cannabis industry"—and that a man named Brian Calle will be managing the Weekly. That's it. As the Times put it, "None of Semanal's other financial backers or managers have disclosed their identities."
This secrecy stinks, and it would seem to fit into a putrid pattern of the rich covertly exercising their power over the media. Silicon Valley billionaire Peter Thiel secretly bankrolled the lawsuit that killed Gawker, and he now appears to be angling to purchase its archives—presumably so he can purge them from existence. Arch-Republican casino magnate Sheldon Adelson tried—and failed—to keep his purchase of the Las Vegas Review-Journal under wraps. GOP megadonors quietly fund the mouthpiece of Trumpism, Breitbart, and it's widely assumed they do the same for the house journal of anti-anti-Trumpism, The Federalist. Such efforts are made easy by the economics of the moment: It's relatively cheap to launch a digital publication, and owners of legacy brands are itching to get out before it's too late. Buying a fading alt-weekly is chump change.
G/O Media may get a commission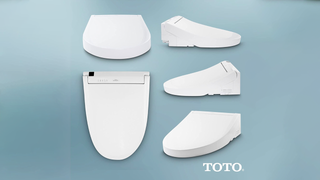 44% off
Toto Washlet Electronic Bidet Toilet Seat
Unionized staffers at LA Weekly were notified in late October that they'd be laid off when the sale was complete. Weeks later, on Nov. 9, a Times profile of Calle, the lefty paper's new boss, seemed to lend credence to the theory that the purchase was at least partly politically motivated:

Calle comes to the role from Southern California News Group, where he has served as opinion editor for the Orange County Register and 10 other daily newspapers. While running the Register's historically libertarian editorial page, he described himself as a "free-market enthusiast." But he said Thursday that the new ownership and management would not change LA Weekly's editorial bent.

He also confirmed that David Welch, a Los Angeles attorney known for representing members of the cannabis industry, is among Semanal's investors. He would not name any others, although he said Welch is the only one with marijuana-industry ties.
The Times' report on Wednesday showed a newsroom unprepared for the extent of the gutting by these clandestine operators. In addition to nine of the publication's 13 editorial staffers, its publisher and some business-side employees were also fired. All five editors are gone; just one staff writer remains. This all seems perilously close to a death sentence, as former editor in chief Mara Shalhoup said on Twitter:
It's hard to know what to make of all this. I've reached out to former LA Weekly editors and am trying to get in touch with Calle, whom OC Weekly listed as one of "Orange County's Scariest People" in 2016, to learn more about his plans for a newsroom that now numbers just four people.
There are recent precedents for such a staff purge. The Village Voice, formerly the flagship of Voice Media, fired nearly all of its unionized employees in September and eliminated its print edition as part of a supposed digital reinvention. In early November, the billionaire Joe Ricketts abruptly shut down DNAinfo and Gothamist, two alternative publications in New York, after his employees voted to unionize. That decision also killed LAist, the latter publication's sister site in Los Angeles.
What is clear today is that there are now fewer professional journalists telling the story of LA—journalists who also helped keep the venerable Times on its toes. If you have any clues to who is responsible for this, send them my way: david.uberti@splinternews.com.