Fentanyl is 100 times more powerful than morphine and 30 to 50 times more powerful than heroin. But it also happens to be a commonly prescribed painkiller, one that your local pharmacist probably has in stock, or can be procured online without too much difficulty.
Which is why, as prescription opiate and heroin use has exploded in the U.S. in recent years, there has been a nationwide surge in fentanyl deaths.
On Monday, Baltimore officials became the latest to warn that 2015 was on its way to becoming a record year for fentanyl overdoses.
"It's unclear why it's happening in Baltimore now, but it is a trend throughout the state and country," Dr. Leana Wen, the city's health commissioner, told the Baltimore Sun's Meredith Cohn. "Our goal is to alert the public, alert residents that heroin may be laced with fentanyl."
The city has already seen 39 fentanyl-related deaths just through the first quarter of this year, nearly three times the number seen all of last year, Cohn writes. Statewide, Maryland has seen 73 fentanyl-related deaths in the first three months of the year, a rate outpacing deaths from both cocaine and alcohol.
G/O Media may get a commission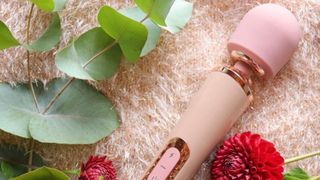 The Honey Wand
WHAT IS FENTANYL?
Fentanyl is a synthetic opiod, like methadone. It severely depresses your breathing and heart rate while providing an overwhelming high. It is most commonly prescribed as a patch called Duragesic, used to treat acute, "break out" pain.
But in a warning about the drug issued in March, the Drug Enforcement Agency said illicit Mexican drug labs have begun pumping out fentanyl injectables and even lollipops, using precursor chemicals imported from Germany, Japan, China as well as Mexico itself.
"Drug incidents and overdoses related to fentanyl are occurring at an alarming rate throughout the United States and represent a significant threat to public health and safety," said DEA Administrator Michele M. Leonhart.
WHO IS DYING FROM IT?
Indeed, there doesn't appear to be a typical user profile. In the most high-profile case for Baltimore, 16-year-old straight-A student Crystal Moulden died from a fentanyl overdose in June.
Meanwhile, of the 22 deaths from fentanyl or a fentanyl and heroin combination counted this year in Jefferson County, Ala., 16 victims were white and 18 were male. About half were in their 30s.
Canada has also seen a huge uptick fentanyl-related fatalities: Ontario, British Columbia, and Alberta saw more than 300 deaths linked to the drug in 2014, according to Macleans Magazine. It now kills twice as many people than heroin in Ontario. Here's what former user Michael Morton told reporters Jonathon Gatehouse and Nancy Macdonald:

"He unwrapped a patch, squeezed out a tiny amount of gel from between its plastic layers, and put it in his mouth. "I fell back in my seat and I fell in love," he says. "It was the best high I ever had."
WHY IS THIS HAPPENING NOW?
The one common link seems to be prior use of heroin and prescription pain pill use.
Dr. Melinda Campopiano of the federal Substance Abuse and Mental Health Services Administration says most heroin has always contained some amount of fentanyl.
But experts she's consulted with say that the labs that have sprung up to satisfy increasing demand for it are not as experienced in manufacturing a non-lethal products as past labs that rode previous heroin bull markets may have been.
After all, "It's not in the interest of a cartel to be killing its consumers," she said.
Anne Arundel County schools spokesman Bob Mosier told the Baltimore Sun that heroin is "part of a 'new reality' for school counselors and administrators."
"Although counselors don't see many students struggling with heroin, they do see a fair number flirting with the 'pre-cursors' — prescription pills and other opioids," Mosier told the Sun.
Ross Parker, a former federal prosecutor and criminal division chief at the U.S. Attorney's Office in Detroit for eight years, and who now writes for Deadline Detroit, says fentanyl "is often sold on the street without identifying it, as for example a 'fake Oxy' pill or 'hybrid smack.' It also has a dozen analogues manufactured in clandestine labs [and is] often referred to as 'China White.'"
CAN ANYTHING BE DONE TO STALL THE EPIDEMIC?
The situation is truly dangerous, since heroin is one of the hardest addictions to kick; many users won't know for sure what they're using as long as they're using something.
But the fentanyl situation is the product of the larger problem of the overprescription of, and easier access to, painkillers and prescription opiates, Campopiano said.
"We've been seeing a huge increase in opioid use related to pain pills, and those people are then more likely to develop an addiction disorder and related overdose deaths," she said.
Baltimore's warning comes just two weeks after Delaware issued its own statewide warning; fifteen residents there have died from fentanyl overdoses since early February.
"In some cases, it appears that individuals thought they were using heroin, which is deadly in its own right, but were ingesting fentanyl instead," state social services secretary Rita Landgraf said. "With the extreme potency of fentanyl, one single use clearly is costing too many people their lives."
Rob covers business, economics and the environment for Fusion. He previously worked at Business Insider. He grew up in Chicago.