A 23-year-old DACA recipient has done what the President of the United States of America has yet to do: freely and publicly told people how much she paid in taxes this year.
Over the weekend, Belén Sisa posted a picture with a 1040 tax form on Facebook and explained that she paid $300 in taxes, despite being undocumented.
"I cannot receive financial aid from the state or federal government for school, I cannot benefit from unemployment, a reduced healthcare plan, or a retirement fund," Sisa wrote.
Still, she paid her state taxes anyway.
"Wanna tell me again how I should be deported, contribute nothing and only leech off this country while the 1% wealthiest people in this country steal from you everyday," she added. "How about you show me yours Donald J. Trump?"
G/O Media may get a commission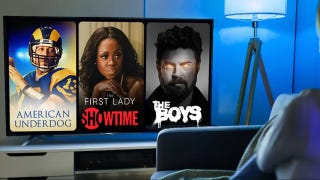 UNDER $1
99¢ Prime Video Channels
In a study of undocumented immigrants' tax contributions, researchers at the Institute on Taxation and Economic Policy found that undocumented immigrants pay an estimated $11.64 billion in various state and local taxes each year, including about $1.1 billion in income taxes. According to the researchers, undocumented immigrants pay taxes at an estimated effective rate of about 8% of their income. The institute compares that to the wealthiest 1% of Americans , who pay an effective rate tax rate of 5.4%.
Sisa came to the U.S. when she was six years old from Argentina. Her parents came on visitor visas, then overstayed them, the Arizona Republic reported.
Now, she's a junior at Arizona State University, and an advocate for undocumented immigrants–including DACA recipients–like herself.
Because she is not a citizen, she cannot vote. But, as the Arizona Republic reported, she did not let that stop her from being engaged politically.
NPR followed her as she registered voters and campaigned for Bernie Sanders in 2015. She was part of Sanders's Latino Outreach team. She attended the 2016 Democratic National Convention as a page. After the 2016 presidential election, she joined forces with other undocumented students at ASU to form Undocumented Students for Education Equity at ASU, a group that brings "affected students, their families and allies together to organize, educate, and resist," according to their Facebook page.
Over 4,600 people have reacted to Sisa's original post on Facebook, and it has been shared over 2,600 times.
Some people were, of course, terrible.
"Smile princes [sic] you just got the attention you were looking for," one Facebook user wrote in a private message to Sisa. "You really should have thought twice before you committed an act of war by invasion and thinking you have a right to a voice in my country."
Other users sent screenshots of a completed Homeland Security Information online tip form, implying they gave ICE information about her.

Sisa aggregated 40 screenshots of the comments sent to her via Facebook Messenger in a post.
"I am legally working in the United States through DACA, and I'm pretty sure the IRS isn't going to come after someone who PAYS their taxes," Sisa wrote in response to the negative messages. "I truly feel bad for these people, may they find peace and happiness in their own dark hearts."