When Jerry Zhang's daughter Madison was just over two years old, she loved the characters in the books her dad would read to her, like Madeline and Eloise. One day, she asked Zhang why they were not Chinese. She told him she wished she looked more like them, and that she wasn't Chinese.
That's when Zhang realized there was a problem: he wasn't finding illustrated children's books where an Asian kid like Madison was the main character or the hero. So he decided to write one himself. He called it Pepper Zhang: Artist Extraordinaire!
At first, he planned on writing the book just for his daughters, but when he realized other kids could benefit, he started Little Ning Books and launched a Kickstarter. So far, he has raised over $26,000.
Lack of diversity and representation is a documented problem, well, pretty much everywhere. But, as Zhang himself has pointed out, it's particularly noticeable–and particularly detrimental– in children's books. Only 7% of the children's books published in the U.S. in 2016 featured Asian characters, according to statistics cited by Zhang and compiled by the Cooperative Children's Book Center School of Education at the University of Wisconsin-Madison.
G/O Media may get a commission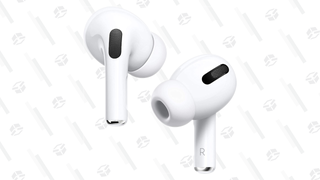 28% Off
Apple AirPods Pro Wireless Earbuds
"Many of the books that did feature Asian children were centered around cultural themes like Chinatown, Chinese New Year, or Chinese characters—which was great, but I was really looking for books that followed just the story about a really cool and awesome child that just happened to be Asian," Zhang explained in a video about his project.
His first book features an "imaginative, quirky, fiery little girl" named Pepper. Like any other kid, she's full of energy and fights to stay awake at bedtime. Later, she discovers her love for painting and art.
"No, she doesn't live in Chinatown and no, it's not about Chinese New Year," he wrote in a blog post.
According to Zhang, Pepper was inspired by Madison, who is now four years old and loves art and music.
He partnered with artist and activist Trisha Hautéa, who is creating cut outs and using paint, pencilling, and water color art for the book's illustrations.

Zhang hopes to write more books following Pepper's adventures as she "experiments, invents, discovers, and explores." Future Little Ning projects include a book featuring "a brave little Asian boy" as its main character, Zhang wrote in an update to backers on Kickstarter.
"My goal is to show them that being funny and interesting is not exclusive to only certain children. Asian children can be just as imaginative and unique as the long-standing iconic book characters that exist today," Zhang wrote in the Little Ning Books mission statement. "I didn't have Pepper Zhang or anything similar when I was growing up, but I can try to make sure that my children and other children do."
According to the book's Kickstarter page, Pepper Zhang: Artist Extraordinaire! is scheduled for release in September.