You've met the perfect guy on Tinder, but there's a problem: he's not down with your herbal lifestyle.
Now there's a dating app that avoids all that awkwardness. The app, called High There, caters specifically to marijuana-friendly folks who live in the 23 states where it's legal in some form.
Of course, a meaningful relationship can't be built on drug use alone. Maybe you like to vape, but she likes to roll doobies—what then?
These questions have been known to destroy many a promising romance. Luckily, this app allows you to sort prospective hook ups by how you like to consume your cannabis, as well as what type of high you prefer.
G/O Media may get a commission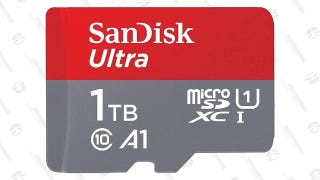 Save $75
SanDisk Ultra 1TB MicroSDXC Card
We haven't tried the app yet, so we can't offer personal feedback (it's not in the iPhone app store, but a company rep says they will be soon). Review so far are mixed.
Thomas: "Not for meeting singles. It's just a way to meet other people who smoke weed. I live in Detroit, I can meet these types just walking out of my front door."
Another guy named Tom: "I saw ZERO women in my area! Rename the app 'SAUSAGE FEST'."
Others were bothered by the app's eligibility requirements — marijuana has to be legal in some form where you live, or else you can't use it.
"Doesn't work in Texas. .. lame," wrote one user.
So who's on there? You could find a potential hookup in CEO Todd Mitchem. He told Fast Company's Co.Exist the idea came from his own experiences.
"I hated dating on other sites and apps because as soon as the idea of my cannabis consumption came up—date over," he said.
Ted Hesson was formerly the immigration editor at Fusion, covering the issue from Washington, D.C. He also writes about drug laws and (occasionally) baseball. On the side: guitars, urban biking, and fiction.