In a case that could have national consequences for employment discrimination against trans people, a federal court judge in Detroit ruled on Thursday that the owners of a funeral home were within their rights when they fired a trans woman for coming out.
Aimee Stephens, a trans woman, was a funeral director at RG & GR Funeral Homes Inc. Her bosses fired her when she told them she is a trans woman and planned to transition, Reuters reported. Stephens worked at the funeral home from 2007–2013 according to Crains Detroit, and the Equal Employment Opportunity Commission filed the lawsuit on her behalf in 2014.
U.S. District Judge Sean Cox ruled that the funeral home owners did not violate Stephens' rights because federal law does not specifically protect transgender people from employment discrimination. He said firing Stephens was in line with the owners' right to practice their faith.
"The court finds that the funeral home has met its initial burden of showing that enforcement of Title VII, and the body of sex-stereotyping case law that has developed under it, would impose a substantial burden on its ability to conduct business in accordance with its sincerely held religious beliefs," Cox wrote in his decision.
Federal Title VII employment discrimination protections don't cover gender identity. Some observers see this ruling partly as a consequence of the Supreme Court's 2014 Hobby Lobby decision, in which SCOTUS ruled that a private company may be exempt from a law if its owners object to the law on religious grounds.
G/O Media may get a commission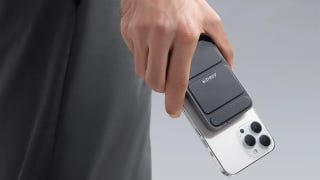 15% off
15% off Anker Top Ten Products
Take charge
Treat yourself to a portable power bank, a magnetic wireless battery for iPhones, or even a solar generator. There is a reason these are in the top ten. For instance, the Anker 747 Power Bank is a 4-in-1 charger utilizing USB-A and USB-C to be capable of charging up to four devices at once. Great to take with you when traveling and in need of keeping your phone, laptop, and even Nintendo Switch powered on.
"This represents the staggering implications of the Supreme Court's Hobby Lobby case," Jay Kaplan, a staff attorney with the ACLU's LGBT Legal Project, told the Detroit News. "Essentially, the judge has said that the funeral home, even one that is not a particularly religious operation, can be exempted from civil rights law with regard to transgender people."
The funeral home was represented by attorneys from an Arizona-based evangelical Christian group called the Alliance Defending Freedom, a group which has supported anti-marriage equality bills and anti-transgender rights legislation in several states.
"It's a big victory for religious freedom," ADF attorney Douglas G. Warlow told the Detroit Free Press. "The government doesn't have the ability to force business owners to violate their religious beliefs about human sexuality, or anything else for that matter."
The case could set a national precedent in how employment discrimination cases brought by trans people are handled, at least in states without specific protections for trans people against employment discrimination. Right now 20 states and the District of Columbia have those kinds of protections, according to the Movement Advancement Project:
"What's sad about it is that the concept of religious freedom is meant to protect people from the government," Mara Keisling, executive director for the National Center for Transgender Equality, told The Detroit News. "It is just simply not meant to allow people, or certainly entities like companies, to discriminate. … It is supposed to be a blade used against the government to defend yourself — not a blade to be used against other people."
RG & GR Funeral Homes Inc. declined further comment to Fusion; the Alliance Defending Freedom's media office and the Equal Employment Opportunity Commission did not immediately respond to a request for comment.