A man in Florida has filed a lawsuit against Miami Beach Mayor Philip Levine for his Facebook block list. In the name of fighting back against censorship, the suit demands the release of 30 days of Levine's tweets, the list of users blocked from commenting on his Facebook page, and records regarding Levine's radio show. The suit seems to ask Florida's Eleventh Judicial Court to decide what qualifies as official communication on social media by an elected official.
It all started the afternoon of July 23rd when the Democratic mayor tweeted a picture of himself with Hillary Clinton and her then newly-announced vice presidential pick, Tim Kaine.
There were a few responses, one from Grant Stern—a mortgage broker, radio host, and activist writer—about a water pollution problem in nearby Biscayne Bay.
G/O Media may get a commission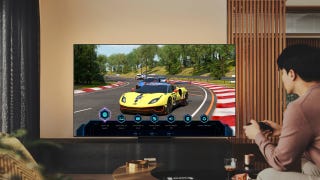 Up to $700 off
TVs, Cell Phones, Smart Home, and More
Just half an hour later, Stern had been blocked by the mayor. So, he took to Levine's verified Facebook page where he commented on the Twitter block and asked for access to a month of Levine's tweets.
His comments were removed, and after trying again, he was blocked from commenting on the Facebook page altogether. At some point in the intervening period, the about section of Levine's Facebook page and his Twitter bio were updated with a new disclaimer: "This page expresses the opinions and views of Mayor Levine and not those of the City of MB."
In late July, Stern filed a formal public records request under Florida's "Sunshine" Law. He is seeking a copy of the Mayor's Facebook block list, the tweets he asked for in his comment, as well as full audio recordings and contracts regarding Levine's SiriusXM radio show "The Mayor." In response, Stern received a letter from Deputy City Attorney Aleksandr Boksner who said that the block list for the Facebook account was "not a public record that was made or received in the course of the official business of the City of Miami Beach," and thus wouldn't be produced. The mayor's office tells me that Levine himself manages the verified page. (A search reveals that he has two other pages: one personal, and one for his campaign. The former contains much of the same content as his verified page, and the latter has been silent since Levine won re-election last fall).
Boksner says the city has yet to be served with the lawsuit and that as a matter of policy it doesn't comment on pending litigation. It's not possible to message Levine's page, and a comment I left on an unrelated post (photos of Levine giving DJ Khaled a key to the city) asking if the mayor would speak to me went without response.
"Sadly, he's unlawfully denied me access to those records, leaving no alternative but to retain counsel and seek relief for access to Mayor Levine's list of people blocked," Stern wrote in an statement issued by email. "Florida's Public Records Act makes zero distinction, the issue rests on one thing, does he use it to disseminate knowledge about city business."
Stern sees the lawsuit not just as a matter of getting the records, but as a way of pushing back against censorship.
Several Miami Beach residents are also upset and have commented on Stern's Facebook post announcing the lawsuit that they were blocked too. Others in various local Facebook groups say they had a similar experience after criticizing Levine's use of the insecticide naled to deal with Zika-carrying mosquitoes.
"If our officials censor us on social media, where they're conducting and disseminating official information then it creates the appearance of correctness where it may not be that situation," Stern told me over the phone. "If you look at Mayor Levine's Facebook page it's sanitized, there's not a drop of dissent. Somebody that's not as politically involved might look at that in choosing their next mayor or evaluating the actions of their government."
A spokesperson for the city's department of public affairs, Melissa Berthier, explained via email that Miami Beach is "currently in the process of finalizing a social media procedure for city employees." However, she explained, that policy will only apply to employees hired by the city manager, and not to elected officials.
There's not an overwhelming precedent one way or the other on the issue. In multiple states and to the federal government, there have been at least tens of cases where public records requests have yielded similar documents to the ones Stern is seeking. Government Block Lists Revealed, a blog run by paralegal Angela Greben which hosts public records requests for the (Twitter) block lists of various public officials and agencies, has filed at least 62 to date. A number of those have yielded results, including one aimed at Florida Governor Rick Scott's official Twitter account, which may be run by an aide. However, the blog has also had requests denied for similar reasons to those Levine and Miami Beach have offered: personal administration of the accounts by individual elected officials.
Despite not commenting on the suit, Levine is on the record talking about the benefits of the Sunshine Law. Last year, while running for reelection, he was interviewed by none other than Grant Stern, who at the time wrote that he generally liked Levine's ideas but thought they could use work.
"Everything that you do as it relates to the business of the city is public information, and it should be," Levine said when asked about the Sunshine Law. "Of course it makes managing much more challenging, there's no question about it."
Ethan Chiel is a reporter for Fusion, writing mostly about the internet and technology. You can (and should) email him at ethan.chiel@fusion.net