Jen Thomas was pretty, had several mutual friends, and said she liked tacos. That was enough for Tampa resident Rich O'Dea to swipe right as he looked at her profile on Tinder, the dating app. They matched, and the pair started talking, eventually making plans to see the band Imagine Dragons perform in July. All the while, O'Dea had a lingering concern about a friend that, little did he know, Thomas would come to play the key role in addressing.
The day of the concert came, and the two got to talking about their hobbies. O'Dea mentioned that for the past several years, he has been running marathons to raise money for a condition called polycystic kidney disease (PKD), which a friend's wife, Erika Bragan, suffers from. PKD can lead to kidney failure, and after two years, Bragan, a mother of two, was still waiting on a kidney donor. Her condition was worsening.
Thomas asked what it would take to become a donor, and said that she would go home and check her blood type.
O'Dea, 43, and Thomas, 35 and the mother of a nine-year-old son, never went on a second date—Thomas told him she had gotten back in touch with an ex-boyfriend, O'Dea told me.
But O'Dea still passed on her contact information to his friend, Scott Bragan. He called Thomas up right away to ask if she was serious about becoming a donor. Thomas, who works as a claims supervisor for a dental and vision insurance company, remained true to her word.
G/O Media may get a commission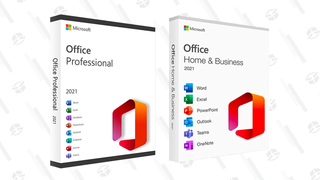 89% off
Microsoft Office Professional 2021 Lifetime License
"I asked her, 'Why are you doing this?'" Bragan told me. "And she just said, 'I think it's something more people should do—for one thing, I'm a mom, and i couldn't imagine your kids losing their mother and you losing your wife…If something happened knowing I had a chance to help, I could not forgive myself if I didn't.'"
"She's just an amazing, selfless person," Bragan said.
Nearly three months later, after a battery of tests, they got the news: She was a match.
And Wednesday evening, Thomas transferred her kidney to Bragan. Everything the operations went well for both women, O'Dea and Scott Bragan said. Erika and Thomas are still recovering from their surgeries and weren't available to comment, but several local news stations have already picked up the story.
Though O'Dea and Thomas aren't in a romantic relationship, he said they have formed a bond.
"I'm going to be close with her forever," he told me.
Tinder did not immediately respond to a request for comment about the incident.
However, Scott Bragan said the company has already been in touch with his family about finding ways of getting their story out into the world to show the hidden potential of the app.
"This is literally swiping right and saving a life," he said. "I think there's a lot more to it than the stereotype that we all know about."
Rob covers business, economics and the environment for Fusion. He previously worked at Business Insider. He grew up in Chicago.