It's just days into 2019, but unfortunately we're already in full swing for the 2020 election. Sen. Elizabeth Warren has already announced she was forming an exploratory committee to run for president, and she was quickly joined a few days later by Washington Gov. Jay Inslee.

Wait, who?
Inslee is but one of many relatively obscure white guys who are publicly considering, toying with, or have been speculated about as potential 2020 candidates hoping to capitalize on the Michael Avenatti crackpot theory of politics that the next Democratic presidential nominee must be a white man. Some of them (Avenatti himself, billionaire Tom Steyer, former New Orleans mayor Mitch Landrieu) have already abandoned potential runs or denied they would run for president, but that hasn't left any shortage of congressmen, governors, mayors, and businessmen who could wind up asking for your vote in 2020.
So we've put together a list of these guys so you can tell them apart, or at least tell their politics apart, when they start appearing on your television screen this year—either to participate in a Debateapalooza or to announce that they won't run in favor of spending more time with the families you also just found out existed.
Note that this list doesn't include people like Bernie Sanders, Joe Biden, and Beto O'Rourke, because everyone knows who those guys are at this point. Let's talk about the real heroes: The guys who have absolutely no shot but are giving it the old college try anyway.
G/O Media may get a commission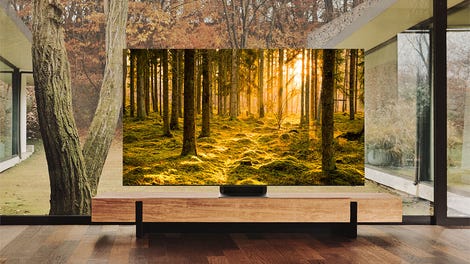 Up to 40% off
Samsung Smart TVs
John Delaney, former Maryland congressman
Who is he? Delaney, a former CEO of multiple companies, was first elected to Congress in 2012 and had an uneventful three terms in Congress before retiring in 2018. In fact, the most notable thing about him might be that he nearly lost his 2014 re-election to Dan Bongino, who is this guy.

Is he actually running? Yes. He announced that he was running in July 2017 in a Washington Post op-ed that no one read. Money quote: "Our government is hamstrung by excessive partisanship."

Who wants him to run: "Trump's not a real billionaire" types who can't bring themselves to vote for Howard Schultz.
When he'll drop out: December 2019, when he announces either his endorsement of Joe Biden or an independent run for president on the No Labels or Particularly Strong Beliefs ticket.
Bill de Blasio, New York City mayor
Who is he? The two-term mayor of New York! The big man in the Big Apple! Only the second most embarrassing guy in New York when it comes to thirsting for Amazon to completely destroy Queens!

Is he actually running? It's not exactly clear. But much like his nemesis Andrew Cuomo did last year, de Blasio seems to have recently rediscovered a passion for progressive politics, announcing plans to guarantee both healthcare and paid time off to all New Yorkers this week. He's also been going to Iowa since 2017, and reportedly plans to go on a national tour to talk about how cool New York is.
Who wants him to run: Probably not this woman.
When he'll drop out: When every Democratic primary voter simultaneously remembers that he's Bill de Blasio.
Rep. Eric Swalwell, California congressman
Who is he? A virtually unknown fourth-term congressman from the Bay Area who has major John Edwards energy. Swalwell is a pretty standard liberal Democrat, but might be best known for being dubbed the "Snapchat King of Congress" by The Hill in 2016.
Is he actually running? Sure seems like it. Politico published speculation on election day that he would run for president, while Swalwell—the only then-current member of Congress to endorse Martin O'Malley in 2016—has been making the rounds around early primary states.
Who wants him to run: People who own this shirt.
When he'll drop out: February 2020, after a disappointing 15th-place finish in the South Carolina primary and just before we all find out he has a secret family.
Jay Inslee, Washington governor
Who is he? The 67-year old two-term governor of Washington and a former congressman, Inslee is perhaps best known nationally for his support of Washington's many lawsuits against the Trump administration. But if he ultimately does run for president, it appears he'll do by trying to frame his candidacy as one that's primarily concerned with tackling climate change. Not a bad premise.

Is he actually running? Yes. Earlier this month, Inslee told the Atlantic's Edward Isaac-Dovere that he's planning to run in 2020.
Who wants him to run: Al Gore, for one, although he maintains that he won't endorse anyone in the primary. "[Inslee's] demonstrated leadership on [climate change] for a long time, both in the Congress and as a successful governor," Gore told The Atlantic. "He's written about it, he's spoken about it, he's legislated about it, he's made bold proposals."
When he'll drop out: March 2020, when Trump invades Iran and everyone forgets about climate change again.
John Hickenlooper, Colorado governor
Who is he? The very-recently departed former two-term governor of Colorado. Before that, he was the mayor of Denver. If you want to get a feel for his politics, consider that right after Colorado Democrats won unified control over the state government in November, he told Denverite that "Colorado is basically a moderate, purple state in the end. It's got loud voices at the extreme on both sides, which I think is a good thing." Again, this is after Colorado Democrats won.

Is he actually running? Hickenlooper said in December that his chances of running were at "63, 64 percent," whatever the hell that means.
Who wants him to run: Every pundit who thinks the Democratic nominee in 2020 needs to run the Bill Clinton 1992 campaign again.
When he'll drop out: When Democratic primary voters realize he's a shill for fracking.
Sherrod Brown, U.S. senator from Ohio
Who is he? A third-term senator, the ranking member of the Senate Banking Committee, and one of the most prominent pro-labor Democrats in Congress. Ohio has turned into an absolute clusterfuck for Democrats over the past two election cycles, but even as the party's other statewide candidates faltered, Brown comfortably won his re-election over Republican Rep. Jim Renacci, which immediately gave his name some weight in 2020 discussions.

Is he actually running? It's unclear. His wife, Pulitzer Prize-winning journalist Connie Schultz, said earlier this week that Brown would make a decision in the coming months.
Who wants him to run: People who think the only path to the presidency is through Ohio's white working class.
When he'll drop out: He won't run, will endorse Warren, and eventually will become the Senate Banking chair, where he'll triumphantly help pass the Glass-Steagall Restoration Act.
Steve Bullock, Montana governor
Who is he? A former Montana attorney general, Bullock is in his second term as governor. He won re-election in 2016, the same year Donald Trump won the state by 21 points.

Is he actually running? Sure sounds like it. Bullock has been to both Iowa and New Hampshire and already got his first BuzzFeed profile. And in December, Montana Sen. Jon Tester said that Bullock would run for Senate in 2020 against Republican Sen. Steve Daines, before Tester's chief of staff later clarified that Tester thought he was answering a question about whether or not Bullock was running for president.
Who wants him to run: People (read: reporters) who are oddly infatuated with the idea of a Montana Democratic governor running for president. Remember Brian Schweitzer?
When he'll drop out: Just in time to file to run for Senate against Steve Daines.
Terry McAuliffe, former Virginia governor
Who is he? A former lackey of Bill Clinton who turned his connections into a gig as chair of the Democratic National Committee for its wildly unsuccessful 2004 election cycle, and later into a term as the governor of Virginia, where he admittedly did some good things (such as restoring voting rights to former felony offenders). Now, he writes Washington Post op-eds about how good things and bad things are exactly the same.
Is he actually running? From that op-ed: "While I haven't decided whether to be a candidate myself, I will be closely watching our side and working to ensure that the Democratic message is realistic, optimistic and focused on helping all Americans. The stakes are simply too high for a race to the bottom." You be the judge.
Who wants him to run: People whose favorite part of the Clinton years was the sleaze.
When he'll drop out: When Joe Biden negs him into submission at a primary debate in September.
Jeff Merkley, U.S. senator from Oregon
Who is he? Merkley, a two-term senator who was first elected in 2008, has consistently been one of the better Democrats in a chamber that is designed to be horrible. He spoke for 15 hours against the confirmation of Neil Gorsuch; he helped draw attention to the secretive nature of and horrible conditions at detention centers for undocumented children; he sponsored the Medicare for All bill in the Senate; and he was ahead of the curve on the Green New Deal. He also hates the filibuster. All in all, Merkley is probably the best option on this whole list.

Is he actually running? Sure seems like he wants to. He said in December that his family was supportive of a run and that a run by Bernie Sanders, a key Senate ally whom Merkley endorsed in 2016, wouldn't stand in his way. The big obstacle for Merkley is that Oregon state law will force him to choose between a run for president and re-election to the Senate. Willamette Week reported in November that Merkley had quietly been lobbying state legislators to change the law in order to allow him to run for both seats at the same time.
Who wants him to run: Progressives who agree with basically everything Sanders says but have a weird grudge against him because he's not 👏 a 👏 Democrat 👏.
When he'll drop out: When it becomes clear that Sanders and Elizabeth Warren are going to split the left.
Bob Casey, U.S. senator from Pennsylvania

Who is he? An anti-choice Democrat from Pennsylvania who just won re-election over his Trump-backed opponent by double-digits.

Is he actually running? Casey told the Washington Examiner in November that he was considering a run. ""I do think Pennsylvania is a crucial state for the next president to win and Democrats should nominate someone who can win our commonwealth without a doubt," Casey said. "I've won the state by an average of 13 points over three Senate elections so I have an obligation to consider it."
Who wants him to run: Catholics.
When he'll drop out: Immediately after he holds one campaign event where he's asked about his stance on abortion.
Tim Ryan, Ohio congressman
Who is he? An Ohio congressman in his eighth term who's best known for his multiple failed attempts to depose Nancy Pelosi as the leader of the House Democrats. Ryan was also notably anti-choice for much of the first part of his Congressional career before announcing that he had changed his mind in 2015. Now he's straddling a weird line between Blue Dog Democrat and progressive, and appears dead set on trying to outflank Pelosi from multiple sides.
Is he actually running? There's been speculation about Ryan running since 2017.
Who wants him to run: Self-described Democrats who consider Pelosi to be "far left."
When he'll drop out: After two high-profile defeats within his own House caucus, it's kinda hard to see this guy actually running for president. If he does, he should be out of the race by the time the first primary starts.
Michael Bennet, U.S. senator from Colorado

Who is he? Like Hickenlooper, for whom he served as chief of staff when the former was mayor of Denver, Bennet is a moderate from Colorado. He's a centrist obsessed with Senate tradition—in other words, the ideal Splinter presidential candidate. (Weirdly, he's also the brother of New York Times op-ed page editor James Bennet.)
Is he actually running? Bennet is "seriously thinking" about a run, according to a report last month by Colorado Public Radio, but as CPR noted, there's significant overlap between his base and Hickenlooper's, and Hickenlooper already has a head start.
Who wants him to run: Single-issue voters who are all about restoring some integrity to the dang United States Senate.
When he'll drop out: He won't run and instead will endorse Hickenlooper, in hopes that he'll be appointed the Secretary of Bipartisan Engagement in 2021.
William McRaven, retired Navy admiral
Who is he? Seemingly every election season, someone has the bright idea to elect a Troop. In 2004, Wesley Clark ran for the Democratic nomination. For years, there was speculation about David Petraeus' ambitions, before, y'know. This time around, it's McRaven, the retired Navy admiral who oversaw the raid that killed Osama bin Laden. McRaven wrote an open letter to Trump in the Washington Post in August saying the president had "embarrassed" the country, which earned him the praise of Joe Biden and immediately drummed up 2020 speculation.

Is he actually running? If he is, he's being intensely quiet about it. Aside from a CNN op-ed calling for him to run, there hasn't been much movement on his part, and McRaven stepped down from his role as the chancellor of the University of Texas system last year citing "health concerns," which include non-life threatening leukemia.
Who wants him to run: People who love the idea of a General President.
When he'll drop out: He won't run, and instead will endorse whoever challenges Trump to a fight.
Howard Schultz, former Starbucks CEO
Who is he? The former CEO of Starbucks, who has done absolutely nothing in his life to prepare himself for this role and who also thinks America is Not Ready for anything good.
Is he actually running? There have been rumblings about a Schultz run for months even though literally no one actually wants this to happen, and in November, CNBC reported that he was "assembling an elite PR team" while considering a run for president, including former McCain 2008 adviser/Never Trump Republican Steve Schmidt.
Who wants him to run: People who want to speak to your manager.
When he'll drop out: Considering the track record of billionaires who have been speculated as 2020 candidates, he'll announce in a few months that he won't run and will then spend about a year and a half warning Democrats not to propose anything people might actually like.
Adam Schiff, congressman from California
Who is he? The new chair of the House Intelligence Committee, Schiff—a previously obscure hawkish moderate—has cultivated a following among watchers of the Mueller investigation.
Is he actually running? When the Los Angeles Times raised the prospect of a Schiff run last February, he denied it. "I certainly have not been thinking about it and am not running," he told the paper. "But I have to say, I'm surprised about how many people have been asking me about it." But by the fall, his tune had changed, and he was visiting Democratic clubs in New Hampshire and saying things like, "I would never say never to something." Hmm.
Who wants him to run: People who follow the Krassensteins on Twitter.
When he'll drop out: Now that Schiff has actual power as the House Intelligence chair, it's hard to see him being willing to give that up for a probably-unsuccessful run for president. Chances are he'll endorse whoever comes up with the worst slogan that's a play on Make America Great Again and keep his focus on investigating the Trump administration.
Michael Bloomberg, former mayor of New York City
Who is he? This fucking guy.

Is he actually running? The billionaire Republican-turned-independent-turned-Democrat was second only to Sheldon Adelson in terms of how much he spent on the midterms last year, shelling out over $90 million to support Democrats. A top adviser also told CNBC that Bloomberg plans to spend over $100 million on a campaign if he runs, which a) is a fuckton of money and b) is about what he spent on his third run for mayor. So he's definitely considering it.
Who wants him to run: No one who was a registered Democrat prior to the 2016 election.
When he'll drop out: It's more likely that Bloomberg will recognize pretty early on that there's no path for him to win a Democratic primary, just like he did the last two times. The nightmare scenario is that a candidate on the economic left wins the primary—say, Bernie Sanders or Elizabeth Warren—and Bloomberg runs to try to occupy some sort of empty middle ground, ends up splitting the ticket, and winds up re-electing Trump. If that happens, you will legally be allowed to throw trash at Bloomberg if you see him on the street.
On second thought—why can't we do that already?