Alumni of Alabama's oldest private historically black liberal arts college are up in arms after learning their alma mater is slated to help celebrate President-elect Donald Trump's inauguration.
"We were a bit horrified to hear of the invitation," Shirley Ferrill, a graduate of Talladega College's class of 1974, told Al.com, upon learning that the school's band would be marching in Trump's inauguration day parade. "I don't want my alma mater to give the appearance of supporting him. Ignore, decline or whatever, but please don't send our band out in our name to do that."
The Talladega College Marching Tornadoes will join a parade heavy with law enforcement and military representatives, as well bands from Marist College and Olivet Nazarene University, two liberal arts schools. An online petition urging Olivet Nazarene to withdraw from the festivities has garnered more than two thousand signatures.
But the scrutiny of Talladega's involvement in the inaugural parade has taken on an added dimension given the school's status as a historically black college.
"After how black people were treated at Trump's rallies, you're going to go and shuck and jive down Pennsylvania Avenue? For what?" Seinya SamForay, a critic of the school's decision, told the Associated Press. "What they did is a slap in the face to other black universities."
G/O Media may get a commission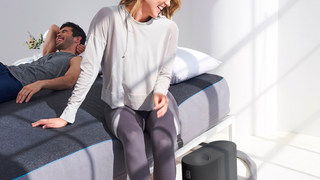 Eight Sleep Pod Cover
In response to Talladega's decision to participate, the poet and professor Nikky Finney—an alumna who now teaches at the University of Southern California—told NPR her alma mater "has forgotten its steady and proud 150 years of history," by performing for Trump, whom she called "one of the most antagonistic, hatred-spewing, unrepentant racists."
"Historical Black colleges are duty bound to have and keep a moral center and be of great moral consciousness while also teaching its students lessons about life that they will need going forward," Finney explained. "Mainly, that just because a billionaire — who cares nothing about their 150 years of American existence — invites them to a fancy, gold-plated, dress-up party, they have the moral right and responsibility to say 'no thank you,' especially when the blood, sweat, and tears and bodies, of black, brown, and native people are stuffed in the envelope alongside the RSVP."
On its Facebook page, the Marching Tornadoes have been inundated with criticism for their decision to march in the inaugural parade. One critic wrote, "PLEASE DO NOT march or play for this hate-filled, racist, misogynistic 'president'. Talladega College does not deserve this smear on its name and reputation." Another urged the school to allow students not to participate in the parade if they choose.
Earlier this week, British singer Rebecca Fergusion wrote she had been asked to sing at Trump's inaugural festivities and would "graciously accept" if she could perform "Strange Fruit," the anti-lynching protest song made famous by Billie Holiday in 1939.