Sacramento county Sheriff Scott Jones and acting Immigration and Customs Enforcement Director Thomas Homan faced an emotional—and frequently rowdy—crowd during a public forum on immigration policy Tuesday night.
The event, described as a "unique" opportunity to "hear directly from the top" about immigration, saw protesters both inside and outside the forum hall voicing their support for immigrant rights. Perhaps none was quite as powerful as that of an unidentified Holocaust survivor, who took Sheriff Jones and acting-Director Homan to task.
"When I was a little boy in Poland, for no other reason but for being Jewish, I was hauled off by the Nazis," the man began in a firm, slightly accented voice. "For no other reason I was picked up and separated from my family, who was exterminated in Auschwitz. And I am a survivor of Auschwitz and Dachau."
He continued:

I spent five and a half years in concentration camps, for one reason and one reason only—because we picked on people, and you as the sheriff, who we elected as sheriff of this county—we did not elect you for sheriff of Washington, D.C. It's about time you side with the people here. And when this gentleman [Dir. Homan] stands up there and says he doesn't go after people, he should read today's [Sacramento Bee newspaper]. Because in today's Bee, the Supreme Court Justice of California objected to ICE coming in and taking people away from the courts. Don't tell me that this is a lie."
G/O Media may get a commission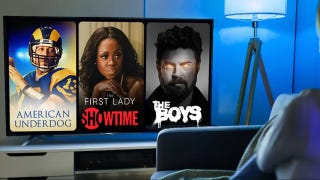 UNDER $1
99¢ Prime Video Channels
"Don't forget," the man concluded, "history is not on your side."
You can watch the speech below, at 26:50.
Earlier this week, Sacramento found itself in the crosshairs of attorney general Jeff Sessions' threats against so-called sanctuary cities—communities which to varying degrees do not use municipal resources such as police or jail space for federal immigration enforcement.
Despite the government's threats against their community, attendees at Tuesday's forum in Sacramento were vocal in their support for their foreign-born neighbors, chanting at one point, "say it loud, say it clear, immigrants are welcome here."