On Tuesday night, Texas' Republican-controlled Senate approved a transphobic "bathroom bill," which would mandate that transgender people use restrooms which correspond to the gender on their birth certificate, rather than their gender identity. The final vote was 21–10, with Democrat Eddie Lucio breaking party lines to support the bill.
The bill, officially dubbed SB 6, has been a high-profile priority for Texas Lt. Governor Dan Patrick, who previously lead his state's fight against the Obama administration's efforts to ensure trans equality in public schools. Advocates for the measure claim the bill focuses on public safety, rather than marginalizing members of the LGBTQ community. But opponents argue its emphasis on the "biological sex" listed on an individual's birth certificate–coupled with its barring of local communities from passing their own restroom-related regulations—amounts to clear discrimination.
"Don't you see the damage that does to [trans] kids, to be humiliated and embarrassed?" Democrat Sylvia Garcia exclaimed during the hours-long debate over the bill.
"How do you have a transgender woman, that's just as feminine as any woman on the Senate floor, and has been so for decades, how would we operate under your law that would make that feminine woman go to a men's restroom?" Democratic Senator John Whitmire argued. "I'm prepared to stand here 'til hell freezes over to get an answer to solve what I think is a horrible dilemma."
"I do not have an easy answer for you," Republican Louise Kolkhorst, the bill's primary sponsor, responded. "Nothing is easy about this."
G/O Media may get a commission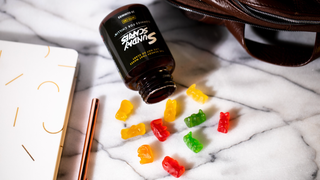 10mg CBD Gummies (22-Count)
Opponents the measure also point out the severe economic fallout experienced by North Carolina after that state passed its controversial HB2 bathroom bill last year. A Texas Association of Business study estimated the bill's passage could result in over $8 billion in economic losses for the state.
The bill now faces a procedural "third reading" vote—expected on Wednesday—before it moves to the Texas House. There, state representatives are reportedly wary of grappling with the highly charged, and potentially volatile measure.
"This isn't the most urgent concern of mine," Republican House Speaker Joe Strauss explained this past November.
"If it creates a situation like North Carolina went through, my enthusiasm would not be high for that," he added.
In a statement responding to the Senate's approval of the bill, Chuck Smith, CEO of the LGBTQ advocacy group Equality Texas, vowed to keep fighting the measure.
"Voting for discriminatory legislation like SB6 is a complicit act of violence and will only incite fear and put the most vulnerable people in our community at further risk," Smith said. "We will stand together; we will support & comfort one another; and we will continue to work together until we have defeated every bill this session which seeks to discriminate against LGBTQ Texans."