Kim Davis, a Kentucky clerk who has been adamantly refusing to marry gay people, is not the only Davis defying the Supreme Court in Kentucky. She is joined by fellow Kentucky clerk Casey Davis, a similarly outspoken anti-gay marriage crusader, and a staunch supporter of Kim. He is currently publicizing that support by biking across the state.
Casey embarked on his journey, from Pikeville to Paducah, on Thursday. Before he set off, Casey explained why he's taking a metaphorical stand for Kim. "I cannot let my sister go to jail without my doing something to let others know about her plight," Casey, who is not actually related to Kim, told WKYT.
Casey has also said he doesn't find Kim's own attitude toward marriage—she's currently married to her fourth husband—to be hypocritical. He told U.S. News and World Report, "I don't have any problem with that whatever, how she was before. If the Lord can forgive her, surely I can…That's something that's forgivable just like any other sin, but if you continue in it and live in it, there's a grave danger in that."
In a recent interview with CNN, Casey said his plan is to "keep trying to get the message out that there's a lady presently in danger of jail, or fines…that is the purpose of the bike ride, to try to raise awareness of what's going on and the severity of a Christian lady that has done nothing wrong." He does not plan to start issuing marriage licenses to gay couples once he returns to his post.
Casey has been in touch with Kim throughout his journey, and said yesterday he feels his journey is even more vital now that Kim has been told by the Supreme Court to start following the law.
G/O Media may get a commission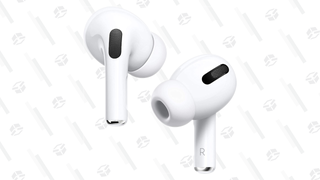 28% Off
Apple AirPods Pro Wireless Earbuds
During a stop in Elizabethtown, he told WKMS that he has a solution that would allow him and his spiritual sister not to marry gay couples: "People can go to their county. Get the license. Bring it back to their county, record the license, just like always. There's one step that's left out and that's the issuing officer and that's taken care of by the person solemnizing the wedding."
Or, the Davises could just uphold the Constitution.
Danielle Wiener-Bronner is a news reporter.